Designing a logo is arguably the most crucial part of brand-building.
Your logo serves as the visual representation of your business. It's that one image that helps audiences understand your identity.
But logos go far beyond that!
A well-designed logo can communicate your brand's values, message and personality, creating a memorable and lasting impression on your customers. It also helps to differentiate your brand from your competitors, making it easier for customers to find and choose your value proposition.
Why don't we look at some examples to get those bright ideas coming?
Here are some of the most eye-catching and unforgettable logo designs by UK-based agencies that take brand identities to the next level.
Standout Features:
Athletic and professional brandmark
Linear and slashed icon design
Clear, minimalist typography
Solo60 is not your regular gym; it's UK's first self-operated gym. It empowers individuals to squeeze in a 60-minute workout on their busy schedules with the convenience of mobile.
We're amazed by how this flexible, fast-paced, on-the-go value proposition is well-translated on the brand's logo designed by Danny&co! (Here's how you can strengthen brand identity with USPs)
We were instantly drawn towards the brand icon: an athletic and professional '60' symbol with exciting elements. The white space, square framing and the invisible X mark resembling an hourglass fit the brand very well.
Plus, that's how you can create the illusion of movement – even from a static image!
2. Goldenoak by This Is What We Do
Standout Features:
Outlined tree icon
The metallic gold color palette
Spherical visual layout
Talk about turning a brand image into a majestic work of art! Liquor brand Goldenoak stands out in a sea of labels with its intricately-designed logo courtesy of This Is What We Do.
The outlined icon of an oak tree is an absolute stunner – illustrated with delicate outlines that branch out in the open. The brand name sits at the center of the image in golden metallic glory.
Rounding up the design is an outer line that combines all elements. But it's not just a typical frame; it's the brand's tagline written in a circular layout for that emblematic style.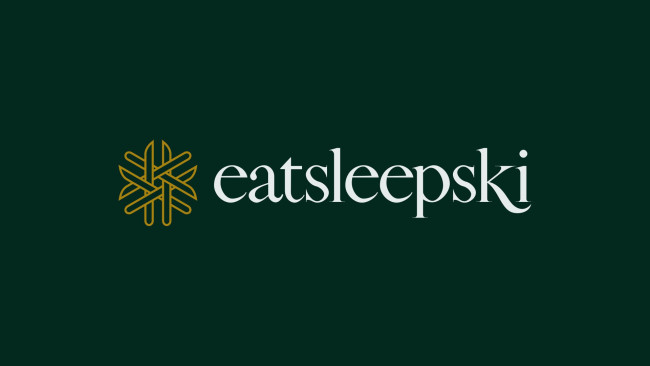 Standout Features:
Luxurious color story
Elegant logotype and symbol
Snowflake-inspired icon
EatSleepSki opens up a world of luxurious ski destinations, and this elegant logo creation by penna.design instantly takes us to that one-of-a-kind experience.
The complementary pairing of deep green and royal gold is painted with royalty and exclusivity, immediately establishing the brand as a luxury option.
The subtle yet unmistakable winter themes also do wonders for brand recognition. From the snowflake-inspired brand icon to the classy serif font with a slope-like flick, EatSleepSki's logo is truly a sight to behold!
4. Ficus by Winter Graphic Design
Standout Features:
Leaf-like icon illustration
Wide and bold font
Gradient color palette
Script developer Ficus takes inspiration from its roots, or its leaves, instead.
The word Ficus means "fig leaf" in Latin, and Winter Graphic Design took this meaningful element and integrated it with the brand's identity to create a clean and distinctive logo.
We're talking about a modern outlined illustration of a leaf designed to resemble the brand name's initial – the letter F. That's two images in one!
The accompanying logotype is written in broad and bold font. Not only does it make the text more legible, but it's also got that focused and professional character.
Standout Features:
Monochromatic-themed logo design
Simple yet distinct brand icon
Minimalist logotype
Minimalist logos can go both ways; look plain and uninteresting or like Gain The Edge – simple yet impactful.
Hallmarked Design did a great job creating an emblematic flat icon – an illustration of a man's figure a la Oscars. It's an image able to imprint itself on the minds of audiences and create brand recall immediately.
With this iconic visual, the subtle serif logotype at the top accentuates the design and keeps the layout clean and streamlined. The monochromatic palette also adds to the logo's refined and modern character.
Standout Features:
Multicolored gradient logo
Asymmetrical lines
Sharp and professional font
Here's the magic of a gradient logo: its colors are guaranteed to grab and hold your attention. Look at this colorful contemporary logo design by Creative ID for Phil Drinkwater! (Explore other examples of gradient logos here)
The asymmetrical lines of the brandmark are painted in shades of solid colors: purple, blue, magenta and pink. Altogether, they create this aesthetically pleasing vibrant gradient.
With this captivating icon, pairing it with a simple yet sharp sans-serif typeface translates to a more professional look. It establishes the brand as a marketing expert fueled by creativity but still means business.
Standout Features:
Intertwined logotype design
Framed brand name layout
Streamlined brand symbol
Create & Inspire is an independent interior designer who speaks to a high-end market with unique one-off pieces. Its logo design by Martin Barnes Creative is the perfect representation of a robust design principle: less is more.
The delicate, lowercase sans-serif typography evokes that sense of refinement and bespoke quality that the brand is known for. That intertwined detail connecting the brand name is also a nice little touch!
The designer also integrated this style into the logo's accompanying brandmark, a compact "C&I" symbol that's easily distinguishable.
Framing the logo in a boxed outline also made for a cleaner, more organized and sophisticated look – very fitting for an interior design brand!
Standout Features:
Bright color pop
Deconstructed logotype layout
Bold font
Another interior design company that boasts a creative logo is Cargo. Designed by Studio Hicks, this modern brand image is guaranteed to make you look with its deconstructed beauty.
Having jumbled letters is easily an attention-grabber, but this style choice also fits the brand very well. Rearranging the brand name is a design move that goes with the value of interior design.
And most importantly, the brand name is still legible even with the letter breaks!
The secret? A bold, heavy font. That one little streak of yellow highlight also made the logo more noticeable.
Standout Features:
Pastel color story
Fun and lively typeface
Cutesy heart icons
Colorful logos are always a joy to look at, and this design for Mama & Flo by James D Whitaker is no exception.
The logo conveys the brand's soft and bright identity through its pastel palette of green, gray, yellow and orange. This aesthetic is on point for a personalized clothing line that caters to mothers and their little ones!
Pairing it with a dainty lowercase logotype translated the brand's fun and youthful character. Those mini hearts inserted into the letters are also a fun design touch!
Standout Features:
Outlined logo icon
A clean, straightforward layout
Simple and sleek typography
OneRegistry is UK's go-to cloud collaboration platform for equity and portfolio management, and design agency Fuz created the best logo that represents their top-of-the-line solutions. (Interested to create your portfolio? Here's the step-by-step guide to help you)
The brandmark features a circular icon connecting the brand name's initials. The image's simplicity and modernity perfectly encapsulate the brand's innovative technology.
Also, the outlined style makes the logo easily adaptable to any background or illustration.
The logotype's two-toned color also translates to a more professional yet refreshing look, and the thin sans-serif font is the key to a clean and straightforward layout.
Standout Features:
Integrated brand name and symbol
Chic and minimalist brand name
Classy gold accent
Looking at Beauty By Noon's logo is like staring at a precious jewel – its golden and rare beauty is sure to catch someone's gaze.
Millside Creative crafted a brandmark that combines the brand name's letters to create one sophisticated icon. The classy gold accent instantly communicated that Beauty By Noon offers premium brow treatments that help you "be your beautiful."
The logotype sits beside the icon in a chic and minimalist style, giving the brand a modern touch. Painted in a neutral color, the simplicity of the text drives the focus back into the visual without losing its impact.
12. Utility Source by Goodinson & Pound
Standout Features:
Light and dark color contrast
Outlined initials design
Authoritative logotype
As experts in gas, water and electric installation services, Utility Source needed a brand image that established their competence. And with their logo designed by Goodinson & Pound, they sure make a great impression!
The logo's brandmark - an icon featuring the company's initials - resembles a water pipe or electrical wire. Very much on-brand! Its wavy outlined design is unmistakable and easy on the eyes.
The accompanying logotype in a classic sans-serif font creates an authoritative image, reinforcing the idea that Utility Source is a reliable provider!
13. Refind by Howell & Hicks Creative
Standout Features:
Fluid-feeling typography
Open-ended cropped edges
Clear and concise tagline
It's impressive how Refind, a Singapore-based glassware provider, pushes for sustainability using recycled materials.
What's even more remarkable is how Howell & Hicks Creative was able to translate that meaningful brand mission into a unique logo design.
The green bottle, glass graphic and fluid-feeling typography are the perfect visual representations of the brand. The cropped edges added an extra design flair, too!
And top it all off, the tagline "Repurposing Singapore's Glass" allows consumers to connect with the brand's value proposition from the get-go.
Subscribe to Spotlight Newsletter
Subscribe to our newsletter to get the latest industry news