Scent is the closest sense tied to memory. Throughout human history, we have purchased scents created by those with a sense of smell beyond our own. What if a company through a wrench in the mix? What if they allowed you to customize your own fragrances for your home with a DIY kit?
Enter SMULD HOUSE. Designed by Huei-Tai Chen, SMULDHOUSE is an elegant line of incense and fragrances that you can customize. Packaging design ranks among the best packaging designs in the world.
The black charcoal colored box represents the natural ingredients and do-it-yourself qualities of the brand. The box has a raw feel to it which emulates the raw materials used in the scent kit.
Notice how the capital lettering makes the packaging stand out. In addition, the white font color pops from the black background and is a great display of color contrast.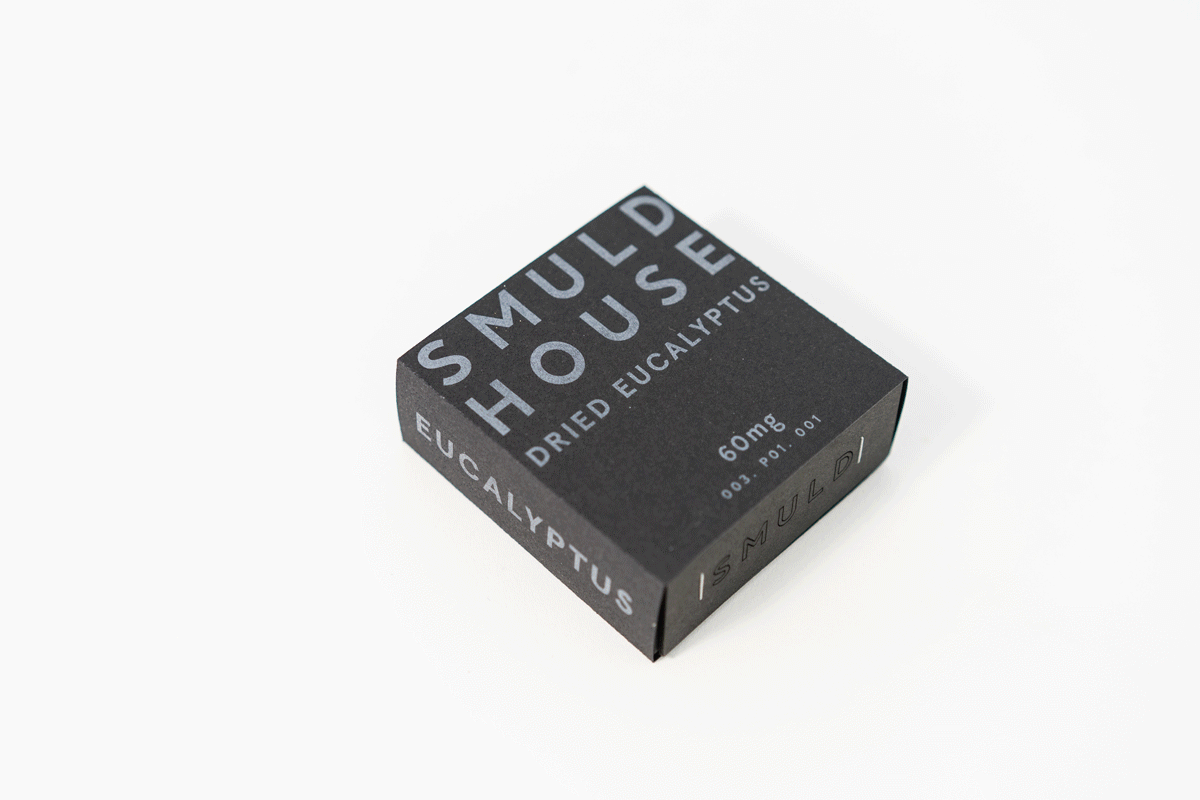 The key to these scent kits is based on smoke. Fragrances that fill the area with smoke infiltrate the hair, fabric and skin of people. It is said that burning these substances keeps negative powers away.
The process of making the scented smoke is believed to extract the "soul" from varying raw materials.
These different raw materials are represented with each box.
Each box has a different key to the smoke kit. Matches, chimneys, and different ingredients like citrus, lavender, or cinnamon lay inside.
There is even an herb grinder and tray/dish to jumpstart your newfound powers as an alchemist of scent. This is beyond cool. This is like transforming into a wizard from ancient times.
You are on a journey to craft, mix, match, and blend a new fragrance into existence. The process is elegant and raw. The charcoal black background and theme of the materials illustrates this well.
Gold typography glimmers atop the black background. The best packaging designs use this color contrasting technique to make their designs indistinguishable from copy-cats. The font looks as if it was written in charcoal. Handmade.
This connects to another key of best packaging design practice: relevance. If the font were to look too commercial, with solid plastic-looking colors, it would not make sense or apply to the raw purpose of this product.
The different boxes of each kit connect to create a puzzle that fits together, creating a unified and cohesive aesthetic.
When you put products side by side, they should connect in a harmonious visual spectacle. This gives them the power to be illuminated on store shelves and catch the eyes of the consumer.
Some of the packages have intricate geometric patterns and line work that give the product a texture and visual flair. Textures can be tricky, but when implemented in a minimal way, they connect the sense of touch to memory and this increases consumer brand recognition.
SMULD HOUSE is a phenomenal example of best packaging design thanks to color contrasting, relevance, and texture. The product stands out on store shelves and pays homage to its do-it-yourself roots.
SMULD HOUSE is a sleek packaging design in the Fashion & Beauty and Sports & Leisure industries.