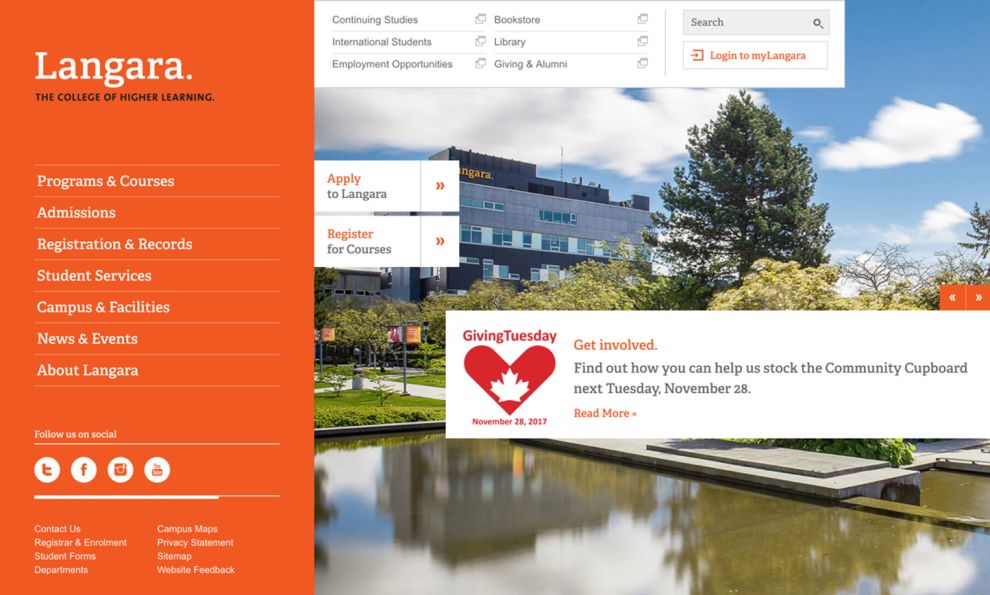 Welcome to Langara University, where higher learning is given higher standards. Building an education program that benefits you is what the university aims for.
The simplicity of Langara University's home page allows you to make use of the wide variety of navigation tools the university supplies from the moment you enter their website.
A stunning campus photograph fills up a majority of the page, giving you a preview of the beautiful university long before you visit. The website presents you immediately with your menu options set against a vibrant orange backdrop.
Page options are laid out in an orderly fashion that makes them easy for you to read. The basic website introduction is a simple way to draw you in and have you making choices about how to experience Langara University's website immediately.
The menu option given to you presents in main page titles. However, if you choose to click on a page title, the menu expands downward transforming into a mega menu with additional pages and categories you are welcome to dive into.
Unlike the main pages which present in bold font, these additional pages are normalized for an effect that clearly links them to a parent page. It's a dynamic way to let you control how you take in the university's website: whether you start in the broad or in a very specific location.
Get familiar with all things Langara University by making a pit stop at the university's about page. Pulling from the original home page design, you'll see the same gorgeous campus photograph is used as a backdrop for the page. The choice creates cross-site uniformity that lets your focus fall to the content presented.
Expanding off the menu, the page opens up an orange and white column that covers a majority of the page. It's filled with a well-organized grid of options on what you can learn about the university. Bright photographic icons are eye-catching and lead you through the various options. The overall design carries through with the simplistic air set by the university's home page. It holds your attention easily and makes it a breeze for you to find out whatever you want while maintaining a visually interesting platform.
Langara University builds a beautiful website on a visually simplistic design. Strong navigation tools combine with a uniform presentation to allow users to focus on the important dynamics of what the university has to offer them.
Langara is a professional website design in the Education industry.