Businesses, particularly those in the finance industry, rely on their impeccable expertise and unmatched service quality to attract clients.
Creating a brand that visually represents those key characteristics is a MUST if you're in the same field. And it starts with creating a powerful and outstanding logo.
Logos don't just serve as mere visual identifiers of a brand or business. They are vessels for communicating meaningful brand stories that leave a lasting impact on your consumers.
And most of all, they show that you genuinely mean business!
Creating an impactful business logo isn't easy. You want to make sure that it's distinct while sending a message that you are the best at what you do (Learn more about the business marketing tools you need).
So, before you go straight to designing your logo, consider this pro tip: keep it simple, but add modern and unique touches that will elevate your brand. To give you some ideas, here are some of the best business and finance logos that show how combining professionalism and uniqueness translates to a solid visual identity.
Standout Features:
Wallet + smile logo icon
Clean and modern logotype
Gradient color palette
Are you looking for an automated service for comparing and finding the right financial option? MoneyMate got your back. It's a consumer research and financial comparison company that allows users to learn about different financial products.
Such a user-centric and accessible feature is well-communicated through their simple and future-forward logo designed by Eugene MT.
The first thing that catches the eye is the logo symbol. It's an iconized wallet, representing the company's field of expertise and comprehensive set of offerings.
What makes it extra special is the small detail at the center. It's a shape that forms a smile, showing how MoneyMate is like a friend you can rely on, one that guides you through sound financial decisions.
And finally, the simplistic, no-frills sans serif typography on the brand name sealed the whole contemporary and streamlined layout. It's clean, professional and easy on the eyes – precisely what an excellent finance logo looks like!
2. Empire by Nektar Design
Standout Features:
Modern logo redesign
Integrated brand name initial
Sleek and professional typeface
Empire's logo is designed by Nektar Design. The whole illustration already exudes business excellence, development and sustained growth at first glance.
The company is dedicated to upward progress, as shown by its logo symbol. It features an upward arrow illustrated via a vector icon with an outlined detail. And it's not your regular icon, too.
If you look closely, the arrow is made up of two intertwined and mirrored letters Es, highlighting the brand name's initial. Visual representation, check!
Sitting beside this magnificent illustration is the Empire brand name, written in a straightforward yet futuristic typeface to show that the company is future-proof and always at the top of its game.
The designers also added the word "financial specialists" in place of a tagline. You see, even with a simple logo, you can instantly create brand awareness and educate the consumers about the nature of your business!
Standout Features:
Symbolic logo icon
A straightforward typography
No outrageous colors
As the brand name hints, Mark Dowson Consulting helps companies scale their businesses and boost their sales and revenue potential through top-notch business consultancy.
As such, fostering solid partnerships is at the core of their business – a value beautifully captured in their logo created by Giacomo Urgeghe!
At first glance, the logo icon looks like a spliced image of a percentage icon. That already serves as a good representation of the company's nature and services. But if you look closer, it's a simplified vector icon of two people shaking hands, engaging in a partnership.
With this abstract and visually-engaging icon, keeping the typography simple and clean is a smart move. The thin serif and sans serif fonts in the logotype allowed the symbol to shine and the brand name legible (Here's how to choose the right typography for your brand).
Standout Features:
3D and textured app icon
Gradient color palette
Modern sans serif font
Crescent is a high-yield savings tool that brings cryptocurrency and blockchain technology closer to the public. Their solution particularly appeals to Gen Z users, and 10Clouds created a logo that perfectly fits that mold.
First, the neon futuristic aesthetic already conveys a brand character that is outgoing, aspirational and highly innovative. From the dark theme to the vibrant hues of purple and blue, the logo can quickly hook anyone's attention, especially the youth.
The gradient detailing in the giant letter C logo symbol is also a great design touch. The colors are infused into the icon's 3D and textured shape, elevating the whole look!
This intricate and eye-catching logo icon is clearly the star of the show, so having a straightforward yet modern and crisp logotype balanced the layout.
After all, the Crescent brand mixes playfulness and trust, setting them apart from traditional financial apps.
5. Abroaden by Giuliano Rusciano
Standout Features:
Symbolic lines and shapes
Fresh color palette
Neat and contemporary typography
Making smart financial decisions can be difficult, especially when living abroad. Enter Abroaden, a wealth-building platform developed for people who want to increase their revenue streams despite living overseas.
The brand caters to young expatriates or those who moved to another country. This brand message is perfectly illustrated in the logo design by Giuliano Rusciano.
The logo symbol is a prime example of how simple shapes and lines can create an image that encapsulates what the brand is all about. The long-curved line moving past small lines represents movement and expansion into a wealthier future while also breaking the barriers of investing abroad.
The designers went with fresh colors like blues and greens, which made the logo look youthful and visually pleasing and conveyed positivity, trustworthiness, and a bright aura.
Overall, this logo design takes the cake for visualizing the brand mission!
Standout Features:
Simple outlined logo icon
Edgy and youthful layout
Thin lowercase sans serif font
Calin is a brand that promises to treat its clients as kings when taking care of their finances. Nalu Studio designed their on-brand logo.
The illustration features an outlined icon of a crown with a line beneath it to underscore the image. What better way to show such royal treatment than a crown, right? It may be simple, but it visually captures the digital wallet solution's core value proposition and brand positioning!
The brand name sits beside the crown, a simple and unambiguous logotype that still screams professionalism and modernity. The thin sans serif typeface is a good balance to the extravagance and superiority that the crown exudes.
This dynamic combo translated to a clean and streamlined logo that stands out even without all the embellishments and trinkets we usually see in the royal court.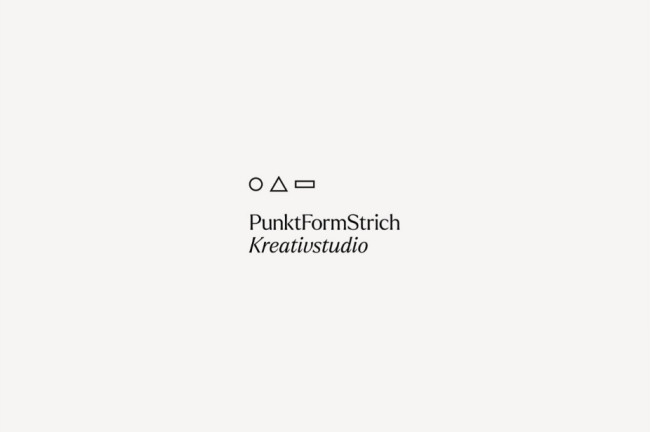 Standout Features:
Basic geometric shapes
Minimalist logo design
Monochromatic color story
Minimalist logos, despite their simplicity, can be super hard to pull off. They can either make your brand look chic and sophisticated or too generic and unappealing. PunktFormStrich is one of those brands that found the sweet spot.
The Austria-based multi-award-winning creative studio showed they are indeed masters of design through this clean and crisp logo design. It visually represents the agency's simplistic approach, emphasizing brilliant elegance and pure minimalism.
The three shapes (circle, triangle and rectangle) as the brand's key logo symbol shows how the designers focus on the essentials rather than the extravagant and distracting visual elements.
Pairing that basic illustration with an elegant and cohesive serif font style for the logotype added a layer of simple sophistication that elevated the aesthetic.
And the icing on the cake? The monochromatic color palette. It made for a clean and pristine layout and made the logo more flexible and easier to incorporate into various branding assets.
8. NewCont by Ave Design
Standout Features:
Dynamic logotype layout
Bright and vibrant color pairings
Modernized logo redesign
After two decades in the accounting industry, NewCont needed to refresh its aesthetic and introduce a new yet familiar visual identity to a new age of consumers. So, they paired up with Ave Design for a massive visual overhaul.
And we must say, the best thing to come out of this project is this logo design that is bright and youthful, yet professional and straightforward simultaneously (Read on how experts develop good logos for business). In other words, the perfect brand character for a modern business!
The logo features a singular illustration – the brand name and nothing else. What used to be a symbol and text ensemble has now been updated to a singular NewCont logotype that's clean, fresh and instantly recognizable.
But what's an excellent logotype without a touch of style? To keep up with the youthful vibe, the designers mixed lowercase and uppercase letters, a design move that can quickly look messy and unprofessional. However, they streamlined the layout by keeping all the characters aligned, uniform and cohesive in font style.
9. LEARITY by Rocketman Studio
Standout Features:
Futuristic logo aesthetic
Neon + dark theme
Wide font style
More than a cryptocurrency coin or token, LEARITY is a metaverse. It's a virtual space, a crypto world where everything and everyone is connected and can interact with each other.
With that value proposition, Rocketman Studio created a logo infused with futuristic themes – the perfect aesthetic for an innovative and revolutionary brand!
The logotype is written in a cyborg-inspired typeface reminiscent of those texts and visuals you'd typically see in science fiction illustrations.
The intertwined letters also add an extra layer of edginess and grit that shows the brand's strong visual identity. Despite the overlapping characters, the brand name is still quite legible, thanks to the wide font style.
The logo comes in bright green, and under a dark theme, it pops! Integrating this neon and glow-in-the-dark visual element into the logo elevates the whole aesthetic and is very much in line with the brand's futuristic visuals.
Standout Features:
Geometric logomark
Symbolic
Modern font
Transfero is a fintech for buying and selling cryptoactives. Originally a Swiss-based group and founder of the BRZ Token, the largest national stablecoin paired with a national currency in Latin America. This change in positioning demanded a pristine, shatterproof logo. Enter RAFdesign!
The company that once conveyed a traditional look, opted for a bolder, modernized and more technological approach. The solution came through a brand with a modern look and which enables the creation of a clear and objective design system (evident in the logomark).
The icon reveals a couple of distinct symbols: a diamond silhouette marking the lasting quality and value, a neatly hidden investment graph and three squares representing the brand's technology aspects.
Subscribe to Spotlight Newsletter
Subscribe to our newsletter to get the latest industry news