Created by some of the best logo design agencies leading the industry as a whole, we've listed the best business logos that perfectly encapsulate the brands' vision, representing them competitively in the market. These logo designs are made responsive, eye-catching, and timeless thanks to the logo design agencies behind them.
If you're looking for more inspiration, browse our collection of the best logo designs.
1. The Co–Spaces by General Condition Studio
Standout Features:
Intelligent use of shapes
Embedded brand name
Sleek and professional
This business logo design crafted by General Condition Studio makes it to our list for its polished and professional look.
The Dubai-based brand stands out because of the intelligent use of shapes, creating a unique yet brand-focused logo. The agency incorporated the letters C and O in the design, forming a circular logo with a small, shaded circle at the lower right. Aside from blending the brand name in the designs, this top-notch business logo design symbolizes the company's commitment to creating safe coworking spaces.
2. Vertratech by Brandisfy Agency
Standout Features:
Monogram logo
Tech-inspired color story
A mix of bold and thin fonts
Vertratech's business logo design by Brandisfy Agency outshines the competition with its innovative monogram logo. The agency combined the brand letters V and T, forming an inverted triangle. They also ensured the letters remained recognizable by using distinct colors for each: orange for V and purple for the letter T's arm.
In addition to purple and orange, the designers also used black. These three colors perfectly connect the brand to the technology industry while providing that authentic and friendly feel.
Lastly, the agency used the Outift typeface for the logotype. They designed Vertra in thin fonts and Tech in thick, bold style.
Check out some of the best geometric logo designs here.
3. Hermer by Igor Pavlov
Standout Features:
Improved twist on the old logo
Dynamic color story
A logo that inspires movement
Combining various visual elements to create a striking business logo design is something that designer Igor Pavlov has mastered.
For this business logo design, the designer has combined the letter H, a single horizontal bar, and a couple of arrows to create a meaningful logo for Hermer. As a freight and logistics market operator, the new logo inspires movement and exudes enthusiasm.
The vibrant orange and black color story blends well, creating an energetic logo design perfect for the business.
4. Investorfi by Studio Dopamine
Standout Features:
A stylized letter F
Highlighted "IF" in the brand name
Two-toned color story
Investorfi's logo by Studio Dopamine features a simple yet impactful design, making it one of the best business logo designs today.
The agency harnessed the art of lettering. The logotype features a stylized F in an arrow shape, signifying the upward movement the company wants to achieve. They also highlighted the letters I and F by painting them neon green. It connects with the company's daring question, "What IF finance strategy gets you there?"
5. Best Service by Gorozhane Design
Standout Features:
Impressive layout
Vibrant color story
Dynamic design
What sets this next-best business logo design apart Is its fluid layout and how it flows seamlessly.
Design agency Gorozhane Design combined the shape of a top-view building and the company initials (B and S) to create a geometric logo that excellently captures the brand identity. Using vibrant colors like red, red-orange, and orange as the primary colors of the logo contributes to the fluidity of the design.
Impressed? Check out some of the best logo design companies the market has to offer!
We'll find qualified logo design agencies for your project, for free.
GET STARTED
Standout Features:
H and Y inclusion
Imaginative concept
Inspired by a viewfinder
Design agency Everyother created a fantastic business logo design for hey you studio inspired by a viewfinder, a nod to the company's nature of business as a rental space for photographers, videographers, and cinematographers.
Like the viewfinder, the logo design is box-shaped. It features the brand initials H and Y in small caps in the upper left and lower right corners, respectively. Alongside the imaginative logo design is the brand name, written one word per line in bold font.
Check out some examples of the best minimalist logos here.
Standout Features:
Socket-like visual
Bold sans-serif fonts
Dark toned colors
Cascade Electrical's business logo design by White Rabbit demonstrates the brand's commitment to customer service while showcasing an industry-favorite visual: an electrical socket.
The socket depicts a smiling face, reflecting the company's approachable nature. The agency also used boldface sans-serif fonts to reinforce the brand's stability and trustworthiness.
The dark-toned colors of indigo and red tie all these visual elements, mirroring Cascade Electrical's seriousness in providing the best service to its customers.
8. Prior do Crato 31 by Musa WorkLab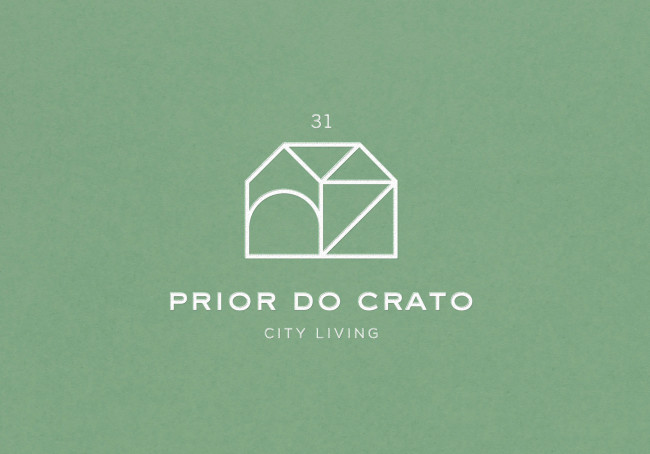 Standout Features:
Symbolic stick figure layout
Sleek sans-serif fonts
Versatile design
This next-best business logo design features a stick figure of a house. It's a simple design with symbolic meanings behind every line.
Design agency Musa WorkLab used shapes and lines to symbolize various housing types the company offers. It conveys that whatever type you need, Prior de Crato 31 has got you covered.
The agency also used gray and white, so the logo wouldn't clash with other visual elements when placed on websites and print designs. Its thin sans-serif typeface looks sleek, sophisticated, and calming.
Featured Custom Logo Designs by Top Digital Agencies
Standout Features:
Semicircles
Lively color story
Flexible logo design
Dream Kraft Entertainment's business logo design by XAXs Corps features semicircles depicting the letters D and K. Then, the agency used a lively color story to add flair and personality to the layout.
Red, blue, and purple look perfect together in this design despite their striking and bold traits. These colors and semicircles are often used as a stunning background pattern to the white logotype.
10. Urban Arquitetura by Atry Design Studio
Standout Features:
Geometric logo design
Letter A in a stencil-like font
3D and flexible visual
Design agency Atry Design Studio's entry to our list of best business logo designs is their creation of the Urban Arquitetura logo.
They presented the brand's initials (U and A) in a two-dimensional way, then added geometric shapes and lines to convey the 3D characteristic of any architectural project.
The agency ensured they communicated the company's flexible offerings through a 3D design that can be rotated 360 degrees and still look the same. Lastly, the logotype sits right beside the unique symbol. It features a distinctive letter A in a stencil-like font style.
11. EXP by trasso.design
Standout Features:
Minimalist logo design
Monochrome color story
Elegant-looking
trasso.design elevated the logo design for this Brazilian company while retaining an element that would help in brand recognition: the stylized letter X that also existed in the old company logo.
The design agency stayed within the minimalist route and designed a more "grown up" logo since the old logo featured lowercase letters. Using uppercase letters indicates that the company has grown significantly and is ready to take on more challenges in the coming years.
12. JAF by nsm+
Standout Features:
Wise use of visual elements
Meaningful story
Growth and movement
nsm+'s logo design for JAF is an excellent business logo that uses visual representations and meaning to establish a story.
The agency combined the ripe wheat stalk and an arrow pointing up to create the final design: a luxurious logo that portrays the company's vision for steady movement and development through wise investment.
Finally, the designers adapted the wheat stalk's golden color.
13. G FORZA by KTM Agency
Standout Features:
Stencil logo design
Negative space
Boldness and stability
The first thing you will notice in this business logo design by KTM Agency is its bold and secure feel, from the color story to the font style used.
The agency used a thick typography, relaying a sense of stability. The all-uppercase logotype features two colors only: gray and peach. The gray letters sit on a rectangular peach layout, subtly mimicking a stencil layout.
This versatile design can be used in various visual assets, from websites to print designs.
Standout Features:
Abstract circle logo
Classy color story
Elegant yet welcoming
Solaris Hotel's logo by designer Titus Ruiz exemplifies the importance of having an effective logo design that conveys your branding identity.
It features an artistic-looking abstract pattern encased in a bronze circle with the brand name spelled in white, all laid on a royal blue background. These elements relay a luxurious feel, making people want to stay in the hotel even more.
Despite its high-end look, the design is inclusive and welcoming, embodying the hotel's mission to care for its guests.
Look at some of the best circle logo designs here.
Standout Features:
Bright colors
Interesting typeface
Sharp yet approachable
Another of the best business logo designs is CAT HR Consulting, courtesy of design agency Waves.
The logo features bright colors such as cyan and white, which is a request from the client since she wants her positivity to radiate in the company logo.
The logotype resembles a key, a nod to the brand's vision to be the key to businesses' success in the industry. This attractive logo looks sharp, approachable, and on-brand.
16. Home±Space by Six Cinquieme
Standout Features:
Unique minimalist concept
Monochrome color palette
Ultra-thin typeface
Design agency Six Cinquieme created one of the best business logo designs using a minimalist approach. They made a simple and adaptive logo for Home±Space, which features the brand name and a plus symbol.
Other logo variations feature the brand initials only with the plus-minus sign, symbolizing balance and harmony.
The monochrome colors also added a sense of elegance, and using ultra-thin sans-serif fonts further reinforces the chic brand identity.
17. Avenus by Zeitgeist
Standout Features:
Welcoming color scheme
Rounded typeface
Interesting symbols
Avenus' logo is another stellar business logo design on our list. It's a modern taxi service offering innovative cab trip solutions and vehicle management.
Designed by Zeitgeist, it features the greater than symbol (>) with a yellow dot beside it, indicating the brand's aspiration to deliver high-quality services to its clients.
The designers used blue and yellow as primary colors to signify sunny days ahead for the company. The rounded typeface also lends an approachable and friendly feel.
18. ARCHILINE by Spectrick
Standout Features:
A set square visual
Consistent typography
Polished design
ARCHLINE's business logo design makes it to our list of best logos because of its clever visual: modern and edgy architecture.
Design agency Spectick took inspiration from the most outstanding architectural designs to create this logo. They incorporated two brand letters, A and L, to form a house silhouette, the main symbol of many architects worldwide.
The design looks robust, with its expressive royal blue and mustard yellow color scheme, making the company look more reliable than its competitors.
Standout Features:
Typeface combinations
Trustworthy image
Architecture styles-inspired
Design agency Estudio Construto created a sleek and improved business logo redesign for Leonardo Rotsen, inspired by the world's best architectural styles.
The logotype has no spaces, so the agency used a combination of boldface and regular typefaces to provide a noticeable distinction between the first and last names.
The main symbol, which stays beside the logotype, is derived from the beautiful columns of Palácio da Alvorada. Wrapping up this design is a luxurious gold color that relays the brand's top-notch services.
Our design experts recognize the most innovative and creative designs from across the globe. Visit Design Awards to see the:
Our team also ranks agencies worldwide to help you find a qualified agency partner. Visit our Agency Directory for the top Logo Design Companies, as well as:
Subscribe to Spotlight Newsletter
Subscribe to our newsletter to get the latest industry news