Since the fashion industry is booming, brands continue to emerge left and right. To stay relevant, they need impeccable branding and logos to pierce through the tight competition. In this article, let's explore the best clothing brands' logo designs that capture consumers' hearts!
You may also visit our collection of top-ranked logo designs for more inspiration.
1. TANSU studio by Bruna Hirano
Standout Features:
Warm, earthy colors
Serif fonts
Simple and functional design
Clothing brand TANSU Studio's logo design is minimalist yet impactful. Bruna Hirano designed this logo with serif fonts and a warm, earthy color story to magnify the brand's classy and professional image.
Overall, the design is simple. But its simplicity works well for the brand, giving it the edge to stand out among loud visuals commonly used within the industry.
2. Lora by Mohammed Saber
Standout Features:
Creative typeface
Interesting shapes
Subdued colors
Designer Mohammed Saber demonstrates his creativity through this clothing brand's logo design. The design shines in a unique and imaginative typeface decorated with minimalist star illustrations.
Aside from elevating the logo design, the stars symbolize the brand's expert craftsmanship and high-quality products. The letters are stitched together, almost looking like a flowing cloth. To wrap the design up, the designer used subdued colors (black, white, and navy blue), emphasizing the brand's clean and luxurious feel.
Check out some of the best sportswear logo designs here.
3. HYDRO by Cardle Design Co.
Standout Features:
Sleek and modern
Bold symbolism
Contrasting colors
The first thing you will notice in this clothing brand's logo design by Cardle Design Co. is the bold use of symbols. The symbols represent HYDRO's bold ambition to make waves in the fashion industry.
The sleek and modern design allows them to relate that message and convince their target audience that they can do anything. The agency also used warm tones to contrast the flawless blue background, creating a harmonious blend between unique color stories.
4. JEEO by Compote Creative Studio
Standout Features:
Stencil-like typography
Bold letters
Futuristic layout
People might think that fashion is all about clashing colors, styles, and patterns, but clothing brand JEEO's logo design proves otherwise. Created by Compote Creative Studio, the design is straightforward. It shows the brand means business while staying true to its stylish personality.
The bold typeface shows the brand's modern appeal, almost futuristic, with subtle stencil touches. The O in JEEO stands out with a shaded square at the top right.
5. Somn by Oh!Nika Designs
Standout Features:
Monochrome color story
Big, bold letters
A fun letter "O"
Somn's logo by Oh!Nika Designs is a perfect example of how northern Europeans see fashion in a new way.
Its big, bold letters remain legible even from afar. This design strategy helps with brand recognition and pooling in more curious customers. The logo also carries a cute little character: the letter "O." The designers added an umlaut, or the two dots you'll see on top of a letter, giving all Os a fun persona.
Receive proposals from verified logo design agencies. It's free.
GET PROPOSALS
6. A Dream by Bradani Design
Standout Features:
Moon-inspired visuals
Calm color story
Creative use of symbols
One of our best clothing brands' logo designs is A Dream by Bradani Design. And true to its name, the design looks dreamy and incredibly creative.
The designers took inspiration from the moon and other heavenly bodies to develop a serene and almost hypnotic logo. One look, and you're carried through the wonders of the night. The light and warm yellows coupled with the dreamy blues are perfect, as though you are looking at the evening skies and admiring how beautiful stars can be.
7. maybe later by Agata Klama Studio
Standout Features:
Witty use of symbols
Straightforward design
Iconic execution
Another top-notch clothing brand's logo design is from maybe later. Design agency Agata Klama Studio relies on various elements to add personality to its otherwise simple design.
They followed a minimalist approach, using fewer symbols and focusing more on how their logo design would function. The logo is displayed in two rows: the top row features "maybe," and an arrow pointing to the right, bottom row presents "later" with a baby-pink-shaded circle.
Featured Custom Logo Designs by Top Digital Agencies
8. ZERO by Rawh Branding
Standout Features:
Innovative design
Modern
Stylized typeface
Clothing brand ZERO's logo design by Rawh Branding perfectly embodies the strong and confident concept of the clothing brand.
The designers achieved a modern, innovative design with a memorable personality. They employed a stylized uppercase logotype that only drew a letter's horizontal and diagonal lines. Despite the letters' bold and edgy style, this technique creates fluidity in the design.
Another notable feature of this clothing brand's logo design is the letter "O," which looks like a button -- a smart move that ties the concept to the fashion industry.
Standout Features:
Elegant
Thin sans-serif fonts
Negative space
Another much-loved feature in fashion is elegance, and this logo design for the clothing brand MAUVAIS CHOIX by Imed Djabi highlights that precisely.
The logo execution is simple. It features the brand name spelled out in all uppercase letters and a period after the last one. You'll see "MONTREAL" with flipped "N" and "E" in a smaller font size right below the brand name.
The thin typeface also helps contribute to the brand's luxurious yet simple charm. Finally, the cut edges and excellent use of negative space convey the brand's goal to embrace imperfections, welcome mistakes and inspire people to be themselves.
10. Bianquine Store by Maginna Studio
Standout Features:
Sober tones with yellow contrast
Tall and print font style
Monogram logo design
Maginna Studio created a stunning logo design for the clothing brand Bianquine Store that delivers a clean, modern look. Unlike other clothing brands that cater to men, this logo design deviates from the assertive image and focuses on delivering a friendly and accessible vibe.
The design features a monogram logo that combines the brand initials "B" and "S," forming a stunning geometric shape. While other variations display the complete brand name in a tall, all-uppercase font.
Lastly, this clothing brand's logo design flaunts sober tones such as dark blue and gray (almost like silver) with a touch of burnt yellow.
11. Daedalus by David Svezhintsev
Standout Features:
Exceptional concept
Dominantly red
Iconic labyrinth illustration
Clothing brand Daedalus' logo design is declared one of the best, thanks to designer David Svezhintsev. He successfully connects the design vision to the brand's inspiration: the mythical Greek builder who created the paradigmatic Labyrinth for King Minos of Crete.
The result? A red-dominant logo design features a circular labyrinth illustration, inviting people to "enter the labyrinth of the mind" and ignite creative vision through Artificial Intelligence (AI.)
Whatever color the apparel is, one element remains consistent: the brand name in red, lending a fiery appeal to the design.
Check out some of the best red logo designs here.
12. Insomnia - Through The Pain by Francesco Alemanno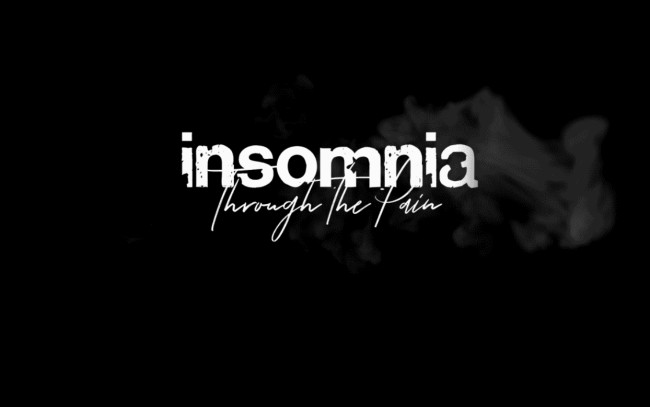 Standout Features:
Stencil elements
Bold letters
Contrasting typefaces
While consistency is essential in fashion, this clothing brand's logo design shows how clashing font styles can come together and create a harmonious design.
Designer Francesco Alemanno used bold sans-serif fonts for the brand name and handwritten fonts for the subtitle underneath. The harmony is remarkable, and the loopy font lends flexibility to the otherwise rigid-looking design.
The design speaks a lot about how much they want to leave an impact on their customers, and it works.
13. OUSE B013 by Lodowa
Standout Features:
Asymmetrical symbol
A thick, masculine character
Monogram logo
Don't miss the design agency Lodowa. Their creation for OUSE B013 is one of the most successful monogram logo designs among clothing brands.
To execute the monogram logo, the designers focused on the characters of "B013" and developed an asymmetrical symbol with a conventional shape. The icon becomes the main attraction of the logo, with the complete brand name accentuating it.
The clothing brand's logo design screams robust and masculine energy with its thick features and military-inspired typography. This logo design is organized chaos, combining the brand's bold personality with sophistication.
Look at some of the iconic fashion logos through the years here.
14. Uncensored Apparel by Md Manjurul Islam
Standout Features:
Simple yet iconic
Sans-serif fonts
Bold and thin fonts
Uncensored Apparel wants to leave a lasting impact on its loyal customers. As such, Md Manjurul Islam designed this simple and functional logo. The logo comprises thick and thin fonts that signify flexibility in accommodating people of all shapes and sizes.
In addition, the sans-serif fonts used gave the logo design an added touch of security that people want from brands in general.
15. CD BRAND – Female by Lotipa
Standout Features:
Rounded edges
Minimalist design
Monochrome colors
What sets this clothing brand's logo design by Lotipa apart from the competition is its simplicity and commitment to product-centric design.
The brand wanted a logo that wouldn't distract people from its gorgeous clothing pieces, and this simple design gets the job done.
The simplicity of the design is perfect for helping them get identified, especially when people see the logo printed in tags and other places where colored symbols don't stand out as much.
Our design experts recognize the most innovative and creative designs from across the globe. Visit Design Awards to see the:
Our team also ranks agencies worldwide to help you find a qualified agency partner. Visit our Agency Directory for the top Logo Design Companies, as well as:
Subscribe to Spotlight Newsletter
Subscribe to our newsletter to get the latest industry news