That's why tourism agencies, travel and tour offices, and other related establishments do their best to entice tourists by having the best travel and tourism logo designs. Besides, tourism is one of the most lucrative industries.
This article discusses the best logo designs that made a mark in the field with their stunning design techniques. Read on and discover what makes each the best in the market!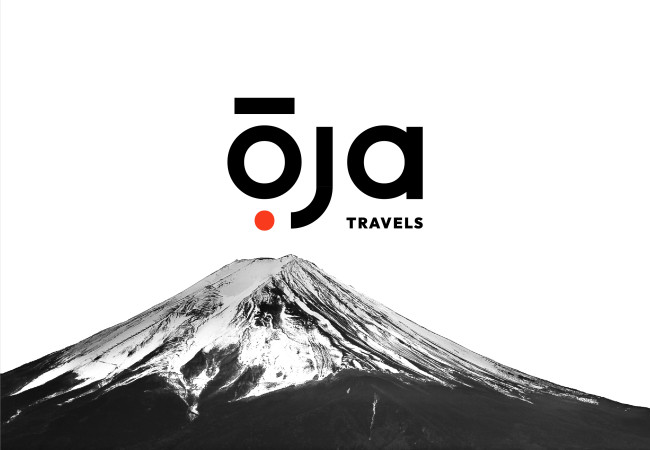 Standout Features:
Japanese-inspired design
Simple typography
Clean design layout
The first best travel and tourism logo in our list utilized Japanese culture to reflect its love and enthusiasm for the country.
Designer Arwa Ramadan incorporated vital elements of Japanese aesthetics: clean, streamlined and straightforward. The simple sans-serif font used to spell the brand name aligns with said visuals.
From the choice of font style to the logo design layout, this travel and tourism logo design is a real hit in our books.
Standout Features:
Purple shades
Playful symbols
Sleek alignment
This next-best travel logo design exemplifies the happiness people get from traveling. Designed by Michelangelo Caruso, the logo design combines visual elements that support the brand image: playful and free.
You'll see a gradual change in colors from the logo's center. The designer used vivid and bright shades of purple that turned into subdued pinks. Then, this T-shaped logo design is capped by a yellow-orange tip.
The designer also stacked the letters in rows of three to spell out the company name, which is a smart move on his part as it looks more compact and sleeker when viewed on various platforms, from the website to the stickers.
Standout Features:
Modern logo design
Smart color story
Box-type layout
Design agency Qontora wanted to appeal to the younger generation with this travel and tourism logo design. With this, they created a logo that is dynamic and modern.
We can only see three colors in the logo design: blue, black and white as the background. This allows the viewer to focus on their brand identity without getting distracted by so many colors in front of them.
These colors, especially blue, are excellent choices for brands in the travel industry. They are calming to look at and are reminiscent of the relaxing outdoors.
4. SantoMax by Rooftop Advertisement
Standout Features:
Dreamy color story
Great iconography
Gradient colors
Rooftop Advertisement designed this travel and tourism logo for SantoMax by borrowing the dreamy sunset imagery and placing it in the design.
Seeing the logo makes you want to daydream and be drifted by your imagination to the crystal-clear waters of the Maldives while watching the sunset from your luxury villa.
The agency also used color gradients in the logo design, making the image more realistic and appealing to the customers.
Standout Features:
Edgy typography
Sleek design concept
Eye-catching and appealing
Brazilian travel and tours company Insigne Exclusive Travel aims to provide a fantastic vacation experience to their customers through high-quality service worthy of feeling like a VIP. That's why they wanted a logo design that is nothing else but.
Thankfully, designer Quinta Camada stepped up their game and developed this sleek logo design that perfectly encapsulated glamor and wanderlust seamlessly.
One noteworthy feature is the font style resembling the cultural vistas in Latin America. This is a clever nod to the business's origins.
Looking at the logo makes you feel abundant and happy without being guilty of spending money for a fantastic vacation. It urges customers to remember that they deserve a worthwhile trip!
Standout Features:
Stunning logo options
Fitting to the brand
Colorful imagery
This next travel and tourism logo design is unlike any other. Designer Azriel Domingo created three unique designs for different purposes!
The first is reminiscent of the old tourism logos, adding a touch of nostalgia. The second is more minimalist, with only a single W in the middle, complemented by simple yet creative designs.
Lastly, the third logo brings out the fun and festive feel of traveling worldwide in one visual. It reminds us of the usual symbols of different countries' tourism departments, with loopy handwriting and wing accents on the side.
Standout Features:
Minimalist design concept
Solid color story
Bold letters
The Tour Studio caters to travelers eager to experience a destination's art and culture. Tess McCabe created this chic logo design that hits all the marks: easy on the eyes, easily identifiable and effective.
This travel logo design employs an effortless blend of blue and brick red to convey peace and energy.
The bold letters give the logo design a layer of security and reliability that puts people at ease with their services.
Here are some other examples of logo designs with bold letters.
Standout Features:
Multiple creative fonts
Friendly color story
Simple yet attractive
Brands like a logo that looks friendly and reliable to their target audiences. That's why this next-best travel and tourism logo design is a job well done.
Design agency LINII wanted to create a logo with meaning, so they used the concept of roadmaps and incorporated it into the design by using a similar-looking font to spell the first letter.
The brand name is now spelled with a sans-serif font that conveys feelings of reliability to its target audience. These two send a message that Movista will care for you while you are on the road.
The white and blue color combinations are also relaxing, reminding people of the clear skies they love while traveling.
Standout Features:
Vibrant animated logo
Clever execution
Meaningful logo design
The next travel and tourism logo design we'll discuss shows movement, vividness and meaning.
Created by design agency Cajva, this shows a blooming flower with petals in varied colors representing different company services. For example, blue is for their affordable hotel partners, while orange is for their various tours and activities.
This logo design execution might be difficult to pull off for some, but they did it so spectacularly that it added a new layer of personality to the brand.
Standout Features:
Stencil-like visual
Fun and lively colors
Flexible uses
The next-best travel and tourism logo design features the location pin emoji, with Earth at its center. Simple, fun and relevant!
Designer Nicole Groff conceptualized Let's Role as an online travel channel exploring worldwide destinations. He successfully developed a logo design that embodies the company's commitment to offering high-quality travel services.
The shades of blue, red and yellow in the logo design add a fun, lively and exciting look to the brand. Not to mention that the logo is also flexible enough so it can be used in different mediums without losing its essence.
Standout Features:
Classy and elegant design
Perfect harmony
Luxurious
Tree Creative needed a luxurious logo design to represent a classy-looking resort in Vietnam.
The result is this stunning logo design that features circles and curved lines, forming a logo reminiscent of the architecture in the resort.
The agency did not include extra elements or details to the logo, making sure it was minimal on purpose and allowing people to focus on its simplicity.
The light blue color makes this design look sophisticated and high-end. Then, the agency used a unique, classy font for the brand name, matching the overall look and feel of the logo.
Standout Features:
On-brand imagery
Sleek design concept
Iconic logo design
With over 20 years in the travel and tourism industry, Ara Tour has a reputation to keep. That's why they chose Newww Design to create their logo design.
Newww Design took the challenge head-on, crafting a visually stunning site that perfectly encapsulates Ara Tour's brand.
The client's logo design is highlighted with on-brand imagery and neutral colors, while the sleek concept touches on how the travel life can be posh, too!
Finally, the appropriate icons, like the parrot and the location pin symbol, perfectly capped off this travel and tourism logo design.
Standout Features:
Excellent concept direction
Light on the eyes
Kids-themed design
Designer team The NetMen ensured that the logo design reflects the client's vision of providing a fun, hassle-free experience for everyone traveling with kids.
The design has icons kids can easily recognize from stick drawings they usually make. As for the colors, the designers used cyan and white, adding balance to the design and a sense of safety.
Standout Features:
Clean logo design
Stamp-inspired concept
Simple yet expressive
The Bold Souls Travel Agency logo design is inspired by stamps and postcards, perfectly capturing the brand's essence. We give this one two thumbs up in nailing the minimalist effect on the logo design.
Using black and white, Rosathegreat managed to keep the logo design clean while incorporating several significant elements into the mix. This helps ensure the logo will genuinely stand out.
The simple yet expressive emphasis on the design gives a lot of meaning, which is perfect for capturing the attention of people looking for a reliable travel agency.
Take a look at some of the best minimalist logo designs here.
Standout Features:
Handwritten typography
Map-like iconography
Flexible logo uses
Logo designs are not only used in websites but in various marketing materials, too. This is why it is essential to have a logo design that can be used online and offline.
This is where Partner Studio excels, especially in Metropolis Travel logo design. The agency developed a logo design that uses handwritten typography and map-like iconography.
Using black and white is perfect for a logo design such as this one, as it gives the flexibility of being used in different kinds of marketing materials. The colors also look great when printed on a T-shirt or other apparel.
Standout Features:
Vintage design concept
Marine life elements
Retro typography
OmniBrand utilized a vintage design concept with marine life elements and retro typography to perfectly encapsulate the feeling of travel nostalgia into this travel and tourism logo design.
The colors used are great in completing the vintage look and feel while keeping a modern touch. The soft shade of blue used also gives off a calming vibe that is perfect for traveling.
This design reminds us of the typical logo designs of the 70s and 80s, with their iconic fonts and prominent icons to drive the point across.
Check out these top trending free fonts you can incorporate into your next design!
Standout Features:
Positive symbolism
Green = sustainability
Playful serif typography
As its name suggests, Slow Travel Workation offers the so-called "slow traveling" experience where customers combine vacation, education, and networking into one unforgettable package. The trips are based on both inner and outer sustainability. Enter Björn Berglund!
The designer captured the STW's mission and name with a cute and evocative mascot, a wandering tortoise that incorporates the globe as its shell (and home). According to Feng Shui, the tortoise symbolizes health, safety, and wisdom, as well as the ability to share said wisdom.
Aside from the playful character, the logo recontextualizes different types of Slow Travel with serif typography and wor(l)d building (see "Workation").
Subscribe to Spotlight Newsletter
Subscribe to our newsletter to get the latest industry news