An eCommerce website is more than just an online storefront; it is an extension of a brand's identity and a vital tool for driving sales.
In this article, we will discuss the best online store web designs that combine attention-grabbing layouts with intuitive functionality to create a seamless shopping experience for customers.
Whether you're a small business owner or an experienced eCommerce marketer, these designs will inspire and inform your next project.
Standout Features:
A useful purchase tutorial
Easily customizable products
Classy and elegant
From a small Brooklyn-based workshop to a creative factory with over 100 designers adding their artistic touches to its products, The Watermark Collection is now a hallmark for bathroom fixtures. The designers at The Weather ensured that the outstanding care and quality of the brand were translated into their web design.
The carousel-inspired artistic imagery immediately lets the browser know that the brand's products transcend their practical usage, making them an elegant and classy addition to their interior. The top menu is accompanied by a fine beige line, prompting you to learn how to shop from the site easily. Clicking on it will reveal a pop-up window containing a detailed form.
Each product is portrayed through several angles, and you can change the color of every element, making up your combination as you go. And if you're unsure of what you want, there's an "articles section" below to inspire you.
Standout Features:
A predominantly monochromatic layout
Extensive product copies
A sleek, minimalist design
HARMAN KARDON is an audio store with a long-running tradition of supplementing high-quality equipment. Design agency Home Studio helped the brand reinforce its online presence through a sleek, modern web design.
The layout is predominantly monochromatic, elegantly switching between white, gray and black. The design is prominent in product-oriented photography, yet it's not cluttered with it, with fine grid positioning that uses one larger image to introduce three separate products (in the case of the homepage, the bestsellers).
While the copies are short and straightforward on other parts of the site, they are more detailed and informative on product catalogs.
This way, the browsing experience lets the user balance a catalog view and a thorough, deeper look into specific product characteristics.
3. Estrid by Studio Ahremark
Standout Features:
Feminine and uncompromising
Tiny minimalistic icons
Aiming to solve modern issues
Estrid's web design by Studio Ahremark reflects the brand's character to the max – it's feminine and sincere, with nothing to hide.
Apart from an occasional real-life model close-up, the website design is mostly monochromatic. The typography is bold but gentle and quirky, inspiring you to take matters into your hands and experiment with your shaving experience.
There are two types of minimalistic visuals: the imaginative and controversial icons, which serve as a sweet supplement to the short copies, and the all-round "seals" placed arbitrarily on the corners of images, headlines and sometimes in-between sections.
The design transforms a dull and painful experience into a fun, personal story, transcending all taboos related to shaving.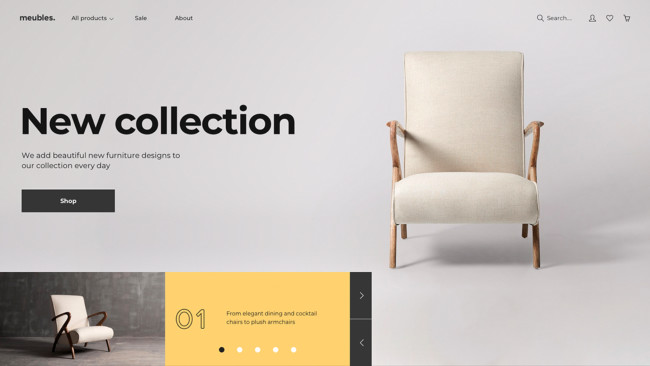 Standout Features:
A smooth and clean design
Hovering effects
Yellow and gray
Meubles. Furniture store's web design was built by Digital&Chic, and the agency ensured to deliver a unique browsing experience that lets you view the products as if you're physically "in the same room."
The menu is a unique and dynamic experience based on two dynamic parts. The left side is yellow with scaled-up Florencesant font listing your options.
Once you hover over them, the outlined font turns to black, and the right panel displays the category's featured product. Each photo is set on the same gray background, inviting you to wander through a vast space of different types of furniture.
The design plays around with white and gray providing a luxurious, elegant tone for the browser. This color story also serves as product segmentation between bestsellers, special offers, new products, etc.
If you liked this one, check out some of the best clean website designs here.
5. PawShop by ITSpace Company
Standout Features:
A pastel, friendly color palette
Real-life pet photos
Boosted user experience
PawShop is where you go when you want to make your feline friends happy! The brand's web design, created by ITSpace Company, emphasizes the emotions of your pets through a quirky depiction of your everyday joint activities.
This creative design features a pastel color palette, with purple and yellow at the forefront of everything. The design combines real-life photos of cats and dogs living their life to the fullest while chasing around digital illustrations of their favorite toys or treats.
Contrary to most of its competitors, the PawShop web design includes a detailed personal account that keeps track of your past purchases and lets you know where your next one is via tracking service.
Standout Features:
A pastel color palette
Content-oriented
Multimedia mix
Be Radiance is a French beauty and make-up store. Design agency Agence Pikka developed a website design that lets the brand communicate its commitment to skin care through natural, clean formulas for every skin tone.
The design relies on a comprehensive set of pastel colors, often complementing the skin color of the models advocating for the products. Rather than overcompensating for quality through dull and lengthy content, this design "cuts it short" and emphasizes its appeal through model photos and testimonials, highlighting the natural simplicity of the brand's products.
In addition to the colorful, positive imagery, the design entails some videos that help break the monotony and immerse the viewer further into the brand's identity and catalog.
If you're looking for other radiant designs in the beauty industry, check out these best beauty web designs in 2023.
Standout Features:
Bright colors and a lively atmosphere
Multimedia advertising
Easy-to-spot vital information
Public Advertising Agency created a colorful multimedia website design for the annual Temecula Balloon & Wine Festival. The warm, energetic design prompts the browser to fly high and enjoy the view.
The hero section showcases the point of view of a person waiting to enter one of the colorful balloons and "set sail" to their sky journey. The hero image is accompanied by a short video showcasing the musician section of the festival that will raise the spirits of music lovers and balloon lovers alike.
Then you can see a photo-card categorization that lets you in on the festival in more detail, followed by a panel that shows the pricing and information about what each price includes. The vital information is difficult to miss, and the web design tempts you to learn more about it.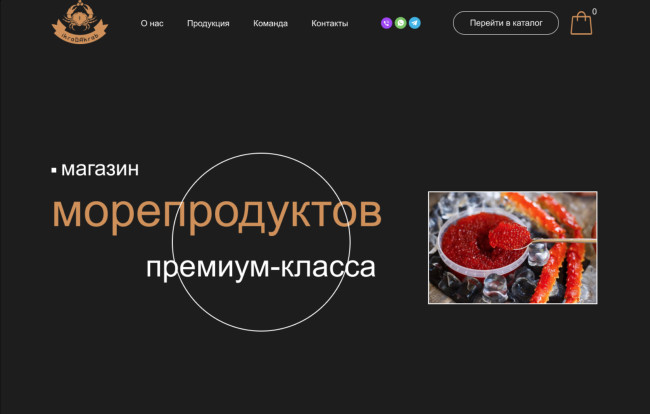 Standout Features:
An earthy color palette
Emphasized counters
Mind-map photographic blend
This Seafood Store website design created by Vladislav Land and Kudelko Ivan serves delicious seafood treats to your screen.
The homepage emphasizes the hero text, with a picture of caviar complementing it, indicating that the store and its products are high-quality. There's also a short brand introduction, followed by the counters section painted brown and no excessive visuals obstructing the flow.
Product placement is on another level in this design. The designers created a mind map of various dishes connected through white threads.
The earthy color palette encompasses brown, black and blue, with a dash of white, mostly reserved for headlines. And they're all blending well, perfectly!
Standout Features:
Underlined content
An engaging, vibrant color scheme
Highlighted promotions
Leobit Design Studio's web design concept for the Shopping E-ccommerce Platform is worth discussing. What makes this concept intriguing is its adaptability, uniqueness and multi-industrial appeal.
The design combines bright colors found in the images and visuals and builds a contrast with pastel colors that complement and subtly emphasize vital information about specific products. The bright colors include yellow for images and orange for buttons. The products' representation is highlighted through the use of extensive positive space.
The promotions are highlighted through a thick line below the text, with pink indicating the deals and discounts and blue emphasizing how many of the products are left in stock.
10. SWAROVSKI by Lala Jafarova
Standout Features:
Minimalist and elegant
A drop-down menu
Product-focused
Swarovski is a renowned brand with jewelry-loving customers worldwide. Lala Jafarova reimagined Swarovski's website design, providing a concept that elevates the website's functionality while improving the user interface.
The homepage encompasses a top-sided menu categorized based on the type of product you're looking for. The white typography on the homepage contrasts with the hero image of a model with top-quality accessories.
Hovering over the menu options will display a drop-down menu that segments the products further. Each of the main options is clickable, leading you to a dedicated page with a short copy and two or three high-quality photos accompanying it.
The design is product-focused while maintaining the significance of the brand. Each purchasing option has a product gallery from various angles, letting you customize the colors.
If you liked this one, check out the most elegant, stylish fashion website designs here.
Standout Features:
A three-color palette
Extensive positive space
A subtle review section
Tool Buddies' straightforward and simple-to-use web design is courtesy of Bozhenko.
The design relies on three primary colors: two shades of blue and a contrasting orange hue. The orange highlights the most critical aspects, including the logo, featured news and articles, as well as promotion and "add to cart" buttons.
The rest of the website takes advantage of the positive space. However, the homepage displays the most extensive details. It has a list of brands, products and promotion periods, all in color-coded sections.
Alongside an in-depth filter menu on the left side of the layout, the product catalog marks up the rest, neatly separated into three products per row. A subtle review section also allows you to learn more about the customers' past experiences.
Standout Features:
Wacky photos
Great use of positive space
Orderless positioning
Happy Socks is one of the most famous sock brands worldwide. The fun, vibrant brand offers freedom of expression for everyone's feet. With all the colors and chaos, it's challenging to set limits to design options, so Redesign took some time and developed a more minimal approach to the brand's website design.
Like the brand's socks, the new design's layout combines many drastically different looks that work together as a whole. The color palette comprises primarily black and white, with only Crazy Lime green supporting them. It's mainly used to indicate and differentiate buttons.
The lack of colors is compensated with tons of wacky photos of colorful socks or people wearing them. The images are laid out in no particular order. However, holistically speaking, the web design gets an authentic (in)coherent note that's immensely fun to look at.
Subscribe to Spotlight Newsletter
Subscribe to our newsletter to get the latest industry news