Think about your most recent purchase. Do you know why you bought that specific item/brand? Was it impulse, FOMO, something you're passionate about or something you genuinely needed?
Odds are, you bought it because the box packaging design caught your eye. Or at least, it played a significant role in your buying decision — you just didn't realize it.
That said, creating engaging packaging is essential. So without further ado, here are the 14 best packaging design inspiration for 2023 that complement every purchase with a healthy dose of dopamine:
Standout features:
Witty copy
Clever monogram
Suppressed color palette
Often, designers think that boxes must be more than a simple box. Thinking "outside of it," they forget that being creative doesn't necessarily have anything to do with the shape of the packaging.
When award-winning industrial designer (and long-time collaborator) Scott Henderson embarked on a mission to create his own line of useful design products, he called in koolgirlposse to set the right graphic tone for his whimsical delights.
The agency developed a concise designer's monogram that works excellently on printed packaging and when applied to the products themselves. The sophisticated palette of slightly muted colors creates a distinct identity that acts as a quiet backdrop, allowing clear diagrams and visually works with the products.
koolgirlposse found opportunities to imbue the brand messaging with visual and verbal wit in unexpected places, utilizing all surfaces of the packaging.
Standout features:
Neutral color scheme
Minimalistic
Simple and clean typography
plume. are delicately fragranced candles hand-poured in highland Scotland. Besides their core range made up of three fragrances, plume., pub. and vine., the new addition, baby., is a gender-neutral, natural candle created to nurture & enhance the well-being of new & expectant parents.
The baby. by plume. packaging, courtesy of Fifth House, is expertly crafted, showcasing the tender nature of the product, without opting for stereotypical aesthetics that are customarily associated with newborns.
Fifth House infused the packaging with all the necessary elements. It's a textbook example of simplicity, clean design and minimalism. Paired with delicate typography, baby. by plume. is bound to make a strong presence on the shelf.
Standout features:
Monochromatic
Minimalistic
Emphasis on "professional"
MIND THE HAIR is an innovative hair dye kit that offers both the recipe and ingredient proportions ready so you can do the work of the professional colorist yourself.
When designing the packaging, ORANGE-CIRCLE was guided by one principle – an alternative way to professional hair services, avoiding the traditional "way" of the hair salon.
After meticulous research, the agency designed a complete hair dye kit appropriate for the colorist to mix up the hair dye recipe easily and quickly for use.
Their focus was to offer more than "just" a high-level hair dye kit. In fact, it also:
Keeps colorists working from home
Allows each colorist to reflect their unique character on the kit
Offers extra hairdressing service and flexibility
The packaging itself embodies these professional features by adopting dominant minimalist trends. Its outline also calls to mind something like surgical tools, which clearly communicates the high level of professionalism needed.
4. KitKat by PRAKRIA
Standout features:
Festive elements
The melding of youthful and traditional
Colorful
Adorning an already iconic packaging can be more challenging than working from scratch. However, PRAKRIA managed to seamlessly reinvent the famous KitKat wrapper while also staying within the confines of what makes the product so memorable.
Heading towards the festive season in India, KitKat, by its very nature a very youthful & vibrant brand, aimed to merge its dominant features with the traditional, albeit colorful aesthetics of the local customs.
It was a challenge that required out-of-the-box thinking, but at the same time, it required functioning within certain guardrails.
PRAKRIA's solution started while designers were "Having a Break." In one of those breaks, inspiration came to mind: "Why not CELEBREAK instead of Celebrate?"
Dialing up the verbal expressions - WOW and JOY, PRAKRIA came up with Paisley as the chief design element.
They've interwoven the traditional festive elements in a youthful design language jutting out of the classic KitKat Snap, capturing the celebratory spirit through the snap element. The packaging design inspiration is a curious case of "the more you look, the more you'll see."
Standout features:
By using the "element of surprise," Barkdays elevates the special bond between dog owners and "man's best friend" by providing a convenient and fun twist to your typical dog subscription box.
Pets have the power to increase our physical and mental health significantly. And science has proven that people who have dogs are less likely to suffer from depression. But who looks after them? Barkdays is here to answer that riddle and Danny&co. came to package it beautifully.
For dogs to live a happy and healthy life, they also have basic needs to be met beyond food, water and security. And more. They need to feel achievement to give back to their family.
Barkdays became far more than a subscription box brand, responsibly sourcing regular high-quality consumables (treats and poop bags) healthful for both your dog and the planet. On top of that, they also have toys and grooming products packaged as a surprise.
Dogs might not differentiate between colors, but colorful packaging reflects the owners' happiness and pooches will definitely sense and share it.
Standout features:
Elegant and luxurious
Transcends traditional packaging
Painting-like color scheme
With a luxurious item hidden behind each little door, from nutri-keratin shampoo to rich nourishing hand cream, Dove's Gently Nourishing calendar is a perfect present, not only during Christmas but for every day of the year.
Aire Global created something that is almost too elegant to be deemed as simple packaging — it's an experience in itself.
Their design features a die-cut of the iconic Dove bird logo in the center of the sleeve, with the washed waves of the "Gently Nourishing" identity gracefully revealed behind it.
Get connected with the right packaging design agency for your project.
GET STARTED
Standout features:
Block painting-inspired
Minimal
Negative space
The Annex Ale Project is devoted to great beer and good conversation — and with good reason. Just one glance at the packaging created by Daughter Creative is enough to spark a conversation in an instant.
Annex needed to have a scalable, easy-to-produce system that could make an impact while still speaking to the individual characteristics of each beer.
These labels follow a distinct visual style that feels fleeting and reflective of the "once it's gone, it's gone" nature of the beer. Flavor characteristics come through in individual design elements with the specific palette choice, line style and placement.
The so-called "negative space" is not something often talked about in packaging design, but the ample whiteness in Annex Ale containers has a special role. It represents a breather — a pause to cut through the ever-growing saturation of the craft beer market. Minimal line work with a rough, hand-done style inspired by Mondrian's block printing is used to represent the experience of drinking the beer — from a deep base flavor to pops of sour, to a refreshingly easy-drinking NEPA.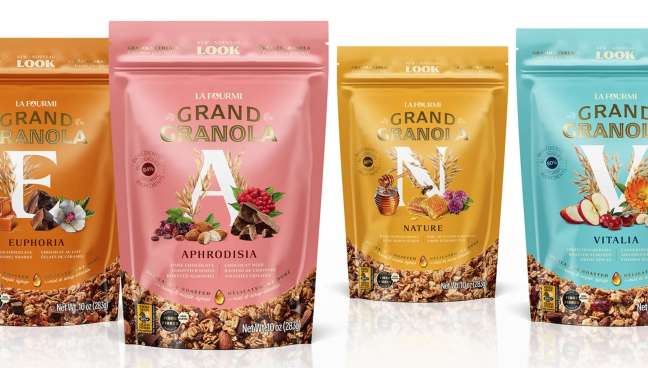 Standout features:
Opulent design
Ingredients as stars of the packaging
Colorful
Since its launch in 2004, the Grand Granola brand has been laureled with numerous prestigious awards, so it's no wonder its packaging requires to be made from the same content-worthy cloth, so to speak.
The close collaboration with La Fourmi (the team behind the brand) allowed Roberge to fully understand the product, the aspirations of the brand, its "gourmet" positioning and the exceptional quality of its ingredients. The challenge was how to translate its pedigree into luxurious packaging.
The new packaging reflects both the product quality and panache, breaking the visual conventions inherent to the food industry. The category of organic and natural products often uses a visual vocabulary and a minimalist stylistic approach. Roberge went in the completely opposite direction.
The entire design is rich, attractive and sophisticated, while the ingredients remain the center of attraction for this premium brand, making sure they emanate the taste and flavors of each variant.
9. Arax by Gentlebrand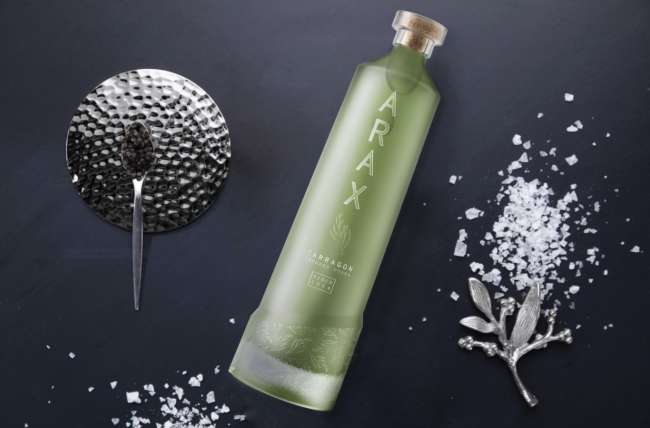 Standout features:
Ingredient as design inspiration
Frosted bottle
Vintage-style cap
Arax is a famous Armenian vodka infused with Tarragon, an aromatic herb that is combined with local natural mineral waters to form the key element of this fine spirit, giving it an intense, yet harmonious character.
With increasing competition in the liquor sector and the desire to step boldly onto international markets, the brand approached Gentlebrand to implement a complete image rebrand.
The result didn't disappoint. The green, frosted glass bottle appears to have been carved from ice, conveying the feeling of a fresh, cold, ready-to-serve spirit. Distinct volumes emphasize a shape that is minimal yet refined, in a design that aims to communicate the premium nature.
A pattern of tarragon leaves is the sole decorative element that not only adorns the base but also evokes the natural component of the distillate. The same detail also appears on the body of the bottle and the cap.
10. Inner Atlas by Smack Bang Designs
Standout features:
Modern aesthetics
Sepia color palette
Abstract
Inner Atlas is a modern, innovative wellness brand that aims to harness the power of medicinal mushrooms and adaptogenic tonic blends for top physical performance, beauty, mood and immune support. Almost sounds like magic, doesn't it?
The range of curative nourishments enables users to become the best version of themselves physically while infusing them with a sense of calmness and clarity. The packaging designed by Smack Bang Designs embodies this union: the balance between body and mind.
Like its mythical namesake, the brand's packaging holds the burden of this delicate balance with ease. It marries modern, minimal design with the ancient practice of medicinal mushrooms while focusing on building an abstract, out-of-this-world aesthetic, creating distinct visual elements that not only reflect the key consumption times (dawn, midday and dusk) but make the packaging shine on the shelves.
11. Hairology by Juggernaut Illustration and Design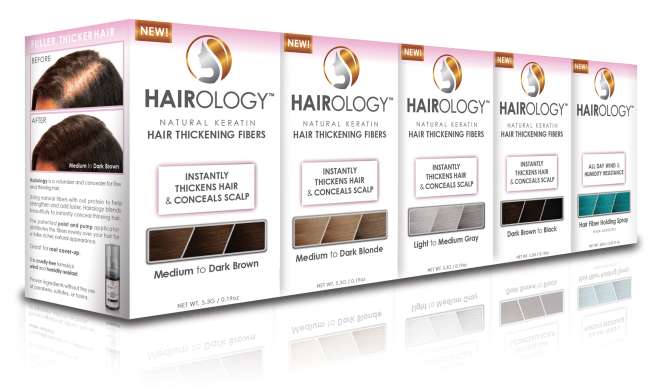 Standout features:
Mission-oriented
Attention-grabbing logo
Prominent USP
The retail haircare sector is highly saturated. Its industry brands more often than not rely on packaging differentiation to forge a connection with consumers. However, there is a multitude of unwritten rules that make various brands in this particular segment share some visual cues.
Hairology packaging design, inspired by Juggernaut Illustration and Design follows some of these "rules" and expands them with a slew of details, including color gradient, usage of gold accents and boosting the logo presence.
Besides the pleasing elements, the packaging relies on the product's USP or benefits. The slightly larger and emphasized list inspires trust and positions Hairology as a go-to brand for those suffering from (or fearing) hair recession and/or hair fiber thinning.
Standout features:
Teal color embodies the state of mindfulness
Clever logo
Creative packaging "window"
Another mushroom-powered entry on our list, the Mindful Mushroom is passionate about gourmet mushrooms and meditation to reach the state of mindfulness. The ideators behind the brand strongly believe that this potent combo can prevent and treat most of the main health issues humans (specifically Americans) face daily.
To help them in the mission of battling ever-spreading health issues, such as anxiety, depression, obesity, cancer, type 2 diabetes, heart disease, autoimmune diseases and cognitive decline, as well as spreading the word with innovative packaging design, the brand approached Compel Co. agency.
When all the parts of a creative puzzle come together, the result is pure zen. From the appealing and minimal linework to the choice of color and subtle illustrations, Compel Co. brought the brand to the spotlight.
13. Purdi by Opulo
Standout features:
Classy minimalism
Luxurious logo
Deep color palette
Purdi is a luxury brand crafting bold and beautiful pieces of handmade jewelry from the world's most desirable and ethically-sourced metals and gems.
Stepping into an already-saturated luxury jewelry market and competing with renowned brands with impeccable reputations and illustrious heritage, Purdi required a branding that truly reflects and embodies its bespoke and precious expertise.
True to its name, Opulo carved out a place for Purdi within the crowded market by defining a niche customer profile, building a unique proposition and creating an opulent branding, including packaging.
Both the logo and packaging rely on elegant circular shapes, a deep color palette and luxurious gold accents to celebrate Purdi's newfound success with pride. Although fairly new (to the broader audience), the brand definitely captures the essence of "iconic" with style.
Standout features:
"Refreshing" color scheme
Mission-oriented
Bold typography
First launched back in 2007, Ever Bamboo, based in Calgary, Alberta, Canada, makes unscented deodorizers and natural dehumidifiers made from Moso bamboo. Their products are being sold all around North America.
Bamboo charcoal has abilities as both a deodorizer and dehumidifier. With proper care, it can last up to one year. And since it is a 100% natural product, it can be recycled into the ecosystem.
Rather than opting for some kind of super-stylish solution, Ever Bamboo packaging, courtesy of Blangk, relies on prominently showcasing the product's properties. Pair them with an invigorating teal color palette and the mission-oriented visual elements and you have a packaging that is bound to stand out on the shelves.
Share your best packaging designs for a chance to be featured on DesignRush!
GET STARTED
Subscribe to Spotlight Newsletter
Subscribe to our newsletter to get the latest industry news