Noni Noni's Interactive Design Uses Machine Learning To Bring Drawings To Life
The Noni Noni Website Was Created To Bring Children's Drawings To Life
The Noni Noni website was created with childlike wonder and creativity in mind. It was created by designer Jongmin Kim for his two-year-old daughter.
She loves to draw, so he took it upon himself to create a digital platform where she could draw her favorite shapes and pictures and match them with real-life objects through the use of intuitive technologies.
This website evolved into a colorful and exciting website for all children. They can draw pictures or letters, which will then be converted into actual 3D renderings that are created out of thousands of little, colorful balls — these are the designer's daughter's favorite toys.
This website is extremely interactive, intuitive and engaging — and it comes from a place of love and happiness in its original conception.
The website used Google Translate APIs and machine learning to bring these images to life. There's a catalog of images that the website compares your own drawing to which comes from AutoDraw and artist renderings.
This exciting, inspiring and reactive design is a beautiful display of happiness, love, and dedication, and the website is one that puts a smile on the face of whoever plays around with it.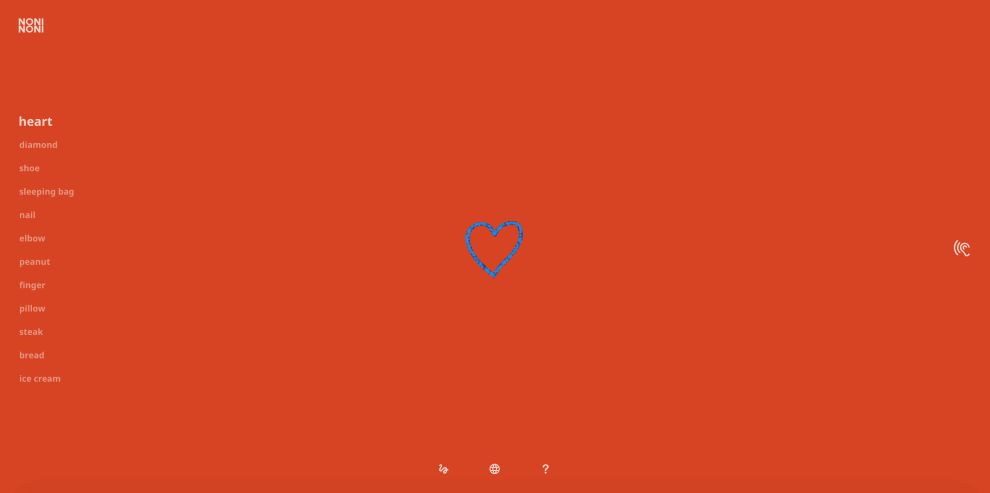 Noni Noni's Website Promotes Creativity Through Interactive Drawing
The Noni Noni website is a destination for children and adults alike to create two-dimensional drawings and watch them morph into 3D creations.
Colorful balls fly across the home page, where children can then use their mouse to draw shapes and letters. All users have to do is click, drag and release. Hearts, squares, crowns and more are all images that the website can recognize and form into in-depth creations.
This website is highly interactive. It requires users to play along and add to the dynamic nature of the site. It's a portal dedicated solely to creating art in a playful and fun way. That gives this website depth.
Understanding the story behind its creation, you're compelled to play along. It's a fun, flirty and bubbly site that makes it easy for children to jump in, get involved and have fun.
From the bright and vivid balls that fly across the black and white screen to the dynamic shapes that move, shake and turn on the 3D rendering page, there is a real dedication to playfulness, nostalgia, and innocence in this design.
The Noni Noni Digital Destination Creates An Exciting Environment For Children To Learn
This creative, dynamic and bubbly website design encourages users to create, draw and explore. It begins as a whirling page of colorful dots shooting across the screen — reds, blues, yellows and balls fly and spring and excite.
This design is colorful, creative and straightforward. Users can draw shapes of letters with their mouse, and in an instant, they are brought to life in the form of a 3D image. These images are then processed through the Google Translate API and take on the shape of a similar image.
Machine learning aids in this process, allowing users to choose the image that best represents the drawing they were trying to create. Users can then play around and see how other shapes look, these images swirling and creating in the form of thousands of bubbly and enthusiastic little balls.
This bright, beautiful and intuitive website design promotes learning and fun. It's a safe place for children to let loose and create works of art that also educate them in a way. It's fun, it's creative and it's quirky. This website is available in a variety of languages too, so it's approachable and usable across the world.
Interactive, in-depth, engaging and innovative — those are just a few ways to describe this website design that was created out of a father's love for his daughter.