Graphic design comes in many forms, especially when it comes to packaging. Some of the most interesting and exciting designs can be found in beer packaging as it is a great canvas to show off the brew's unique personality.
Since the popularity of the craft beer industry skyrocketed in recent years, new forms of eye-catching art saturated the market, becoming even more appealing than the beverage itself. And with good reason.
The best beer packaging designs are more than just attention-grabbing vehicles. Without them, the products are overlooked on the aisles' shelves. When done correctly, beer packaging design gives customers a unique opportunity to "sample" a product even before that famous fizz opening sound.
As the saying goes (or doesn't), beauty is in the eyes of the beer holder. From the quality of beer logos to the color choice and everything in between, we've collected some of the best packaging designs in the beer brewing niche that dominate the global market. It's time to get inspired.
Standout features:
Traditional design
Striking heraldry
Premium feel of the product
Czech beer has become a synonym for top-quality, and rightfully so. Czech beer brands have strong potential to perform well in the premium segment of export markets. Pardubicky Pivovar, one of the most renowned local brands takes great pride in the Moravian malt, quality water and hops of Žatec used to produce its signature brew.
Quality, however, needs to be reflected in the packaging design and Cacoon made sure to deliver only the best. Each Pardubicky bottle reflects the unique origin and the beer's noble character.
The agency developed an attractive and relevant brand identity, opting for a traditional logo, illustrated golden scroll and striking typography. The end result lodges itself in consumers' collective memory effortlessly and gives away the impression as if it was always there to begin with.
Standout features:
Painting-style quality
Visual play on beer's namesake
Tranquil color palette
Hop Hooligans is a Bucharest-based microbrewery founded in 2016 by three good friends who decided to produce their own bold recipes of high-quality craft beer. The packaging, designed by Diana Barbu, is infused with playful and cheeky elements, including fun and quirky stories about the brand's name, as well as the name of every individual brew.
Machine Learning, their latest addition in a long line of beer brews, is also adorned with sharp and fresh illustrations.
What makes it stand out are somewhat abstract, painting-style elements that embody the machine learning name.
It calls to mind a rather particular branch of artificial intelligence based on the idea that computer systems can learn from data, identify visual patterns and make decisions with minimal human intervention.
The packaging, however, adds that "human intervention" by uniting the "cold" technology with Kandinsky-inspired motifs that do not aim to accurately depict said technology, but rather its power and effects.
This merger makes the beer contained in the packaging look like the essence of intelligence and genuine inspiration.
Standout features:
Symbolic illustrations
Artsy and evocative
Colorful and minimal
When designing the Kingly Crown's packaging, Florian Popescu dived deep into the brand's essence - storytelling via memorable taste and visuals.
Each can carries a distinct Shakespearean story. In other words - Shakesbeer!
Before adorning the packaging, these illustrations were all drawn by hand, pen on paper. The designer agency opted for a limited, albeit saturated color palette and few digital effects to create authentic artwork reminiscing of the playwright's great work.
Standout features:
Playful illustrations
Graffiti-style art
Colorful palette
Taix Tolo Tchê! is a collab between Cervejaria Biertal (SC) and Old Captain (RS) that was laureled with Silver Medal Beer award at CBC 2021.
The explosive collaboration didn't only result in a phenomenal, perfect-for-the-summer, sour IPA, but equally stunning packaging.
You might think that there's not much you can do when designing your typical, plain old beer can as it's fairly limiting shape-wise. However, Cerverama managed to open a whole new world with Taix Tolo Tche.
The agency adorned the beer packaging with playful illustrations that not only emphasize the summer vibe, but also the brew's origin – colorful Brazil! Taste the carnival!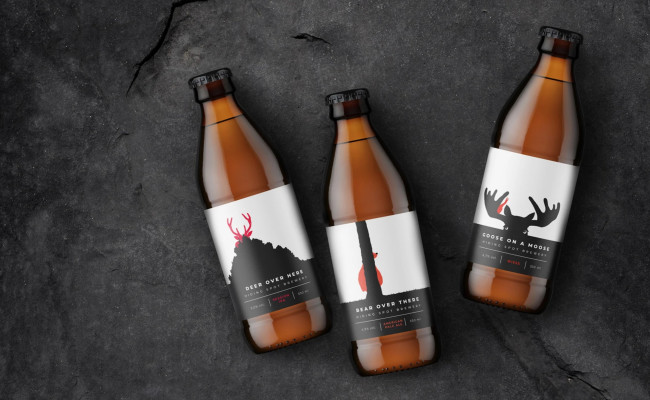 Standout features:
Clean, minimalist form
Wordplay
Witty illustrations
Hiding Spot Brewery began as a conceptual design project at the Karolina Król Studio, aiming to develop a simple, minimalist creative direction for a new craft beer brand. The main goal was to avoid the customarily busy, conspicuous imagery used by most competitors in the industry.
This unique creative direction caught the eye of a forward-thinking craft beer duo from Cologne in Germany, who saw the potential of the concept and decided to bring it to life. The minimalist premise of the brand is ideally suited to the sustainable, environmentally-friendly vision said duo had for the brand.
Rather than attempting to capture the shoppers' attention by sheer visual lavishness, Hiding Spot Brewery makes use of minimalist forms, bold contrasts and a black and white color combination with wittily "hidden" red accents.
Standout features:
"Music to your taste buds"
Abstract elements
Vibrant colors
LazyLab is a brewery based in Brighton, UK, brewing a variety of award-winning IPAs. Inspired by the West Coast "across the pond" (and a fair amount of landmass) and tropical vibes, LazyLab's signature IPAs are hoppy, full of flavor and packed with a distinct attitude. Simply put, it's a "juice rave in a can."
The "sunny" design, courtesy of Minal Studio embodies the brew's punchy, tantalizing notes with a satisfying finish that leaves beer enthusiasts craving for more. Each flavor is represented by a unique color, an illustrated character and an abstract design that personifies the notes and vibes from drinking it.
The whole design represents the brand's message:
"Crack a cold one, kick back and relax. Stay lazy."
Standout features:
Distinctive shape
Genuine reusability
Practical seal
In a time when every other company or brand shouts about "sustainability", "going green" and "recycling", The Keeper decided to, well, keep its integrity and offer the simplest solution to the environmental challenges - extended functionality when the last delicious drop of beer disappears.
The distinctive 1l Keeper bottle, courtesy of Juice3D, is designed to be reusable and it comes with a simple set of instructions; Drink, Keep, Re-Use, Repeat!
Although Hallertau Brewary is one of the leaders of the New Zealand craft beer industry, the agency paid homage to the brand's link to Bavaria and sculpted the bottle using intrinsically German design principles.
The slightly angular profile reflects the beer's bold flavor while the purposefully neutral color scheme allows the packaging to be reused however the consumer wishes.
Standout features:
Fairytale imagery
Striking typography
Subdued color palette
Rødder Brewing Co is a craft beer brand based in Argentina, hell-bent on producing high-quality beer for local bars and now launching their own beer lines.
Iin times when craft beer breweries are springing up like mushrooms after the rain, it's getting harder and harder to stand out. Somehow, Rødder does just that, seemingly effortlessly.
Working with Jacomy Mayne Studio, Rødder released 4 labels for their lines of beers, to compete and differentiate themselves on the shelves. The labels use very distinct visuals, reminiscent of European fairytale imagery. The typography is also a very amusing mix of traditional and vintage, suggesting that every flavor has a rich story to tell.
9. Duff by Marco Barba Design
Standout features:
Simpsons-inspired
Simpsons-inspired
Simpsons-inspired... 'nuff said
As they so eloquently said in "South Park": "Simpsons did it first!" While it's true with most things in life (the show's prophetic nature is a stuff of legends), bringing anything from one of the most important cartoons in history to real life is an epic endeavor we can definitely stand behind.
Barba Design did exactly that! Look us in the eyes and tell us how you never thought about sharing a cold one with Homer or party with the unforgettable "Duffman"?
Just as we thought. While that specific daydream won't come true, hey, more Duff for you!
Inspiration aside Barba Design did a lot more than breath life to animated brew. While retaining the style of the brand, they infused details that differentiate it from traditional beer brands in order to make it the protagonist of the shelves.
Standout features:
Fun illustrations
Clean and minimal
Punchy attitude
TINY BASTARDS is an independent (badass) brewery in the city of Guadalajara, Jalisco. Their beers, donning unusual styles and bold personalities, are perfect to accompany companions to a good ol' barbecue in the backyard (and share it with some unwanted guests as well).
Since no single craft beer brand dominates the market, standing out requires labels that are more than appealing. It requires attitude. Tiny Bastards is all about attitude and Studio Carino showcased it perfectly.
The simplistic, clean label relies on its witty illustrations or different "species" of the brewery's namesake. They represent somewhat of a vengeful animal we deemed a vermin in times past. Each one, naughty raccoon (Porter), troublemaking sparrow (blonde beer) and intimidating squirrel (IPA) hold a weapon of choice, traditionally used to fend them off.
The creative imagery combined with the candid tagline: "This Sh*t Ain't Fo Weak People" is just enough to turn some heads.
11. Dear Beer by Salt and Sugar Creative Studio
Standout features:
'80s-inspired
Colorful and playful
Bold typography
Dear Beer is a craft beer brand that's mainly focused on three different fruit-based flavors: peach, strawberry and grape. Inspired by retro, late '80s, disco-leg-warmers-era Salt and Sugar Creative Studio created a sweet (pun intended) and colorful packaging worthy of Dear Beer's unique identity.
The brand's graphical language pushed the agency to create clean packaging and fill it up with the embodiment of freedom and joy.
The color scheme is composed of vibrant, neon tones that complement each other perfectly, however, you combine them. What makes this design choice stand out, however, is mixing these colors with bold shapes and lines. It's safe to say that the packaging will attract people even from far away. By the time they get near and grab one of Dear Beer's cans, they've already morphed into its greatest fans.
12. Epic Duel by Matt Erickson
Standout features:
Distinct color scheme and black backgrounds
No typography
Rich narrative
Starting back in 2014 from a small garage, 56 Brewing is a Minneapolis-based craft beer brewery that offers a wide range of brews. With a rich and dedicated local following for IPAs and Sour brews, 56 Brewing grew to become a "crafting community, one beer at a time."
Their latest addition is here to tell a story. Epic Duel is a set of two distinct special-release beers packaged in 16oz cans.
These double dry-hopped New England-style double IPAs were each crafted to showcase a single hop and highlight their individual characteristics. The two chosen variants were Strata and Sultana.
When creating the limited-edition packaging, Matt Erickson's approach was to tell an engaging narrative about a showdown between these two (magical) hops - and thus "Epic Duel" was born.
A hop battle for the ages, the strife between these individual personalities was distilled and turned into majestic packaging, each featuring a wizard battling for dominance. The intricate illustrations and a complete lack of typography help create a lovely beer packaging design that's effusive of the brewery's fun-spirited attitude.
13. Molina by Angelini Design
Standout features:
Minimal
Symmetrical layout of pattern and typography
Color-coded flavors
With the continued global growth and expansion of the craft beer design industry, Molino Casillo is entering the sector with a bang!
To expand its market offering in support of its positioning centered around quality raw materials, Angelini Design designed stylish packaging that is sure to bring joy and genuine freshness to the shelves (and beer enthusiasts) around the world.
The new venture sees the launch of three styles of bottled beer featuring a distinct pattern - durum wheat as one of the principal ingredients. It echoes the brand statement "where there is grain, there is Molino Casillo," and bolsters the Molina's raw quality and refined aesthetics.
14. Rotulo do Velhaco by StudioBah Branding & Design
Standout features:
Embodies the tale behind the brand
Creative use of typography
Original label
Devaneio do Velhaco (or Old Rogue's Daydream) is a brewery and bar in Porto Alegre, Brazil. The brand's initial idea literally began in a dream, or more precisely in an imaginary conversation between the founder and his grandfather Salvador.
Established in the family's old house in the historic "Joyful Harbor's" center, the brewery began to bottle its beer and introduced it across Brazil.
Therefore, Helping the brewery to spread (or rather spill) the message, StudioBah Branding & Design developed packaging, specially designed to expand and continue the brand moving out of the pubs. And so the Old Rogue's label was born, a beer packaging design representing the idea behind the brand that also respects the concurrent business needs.
The idea was to separate the label into 2 parts: the bigger one, which seamlessly merges copy. typography and illustration into one work of art carries all the brand's essence, while the smaller acts as a "flag" on the neck of the bottle.
15. Baltica Beer by Zoomix Online Design
Standout features:
Excellent use of color
Merger of traditional and modern
Bold typography
When it comes to beer packaging, especially since the boom of craft beer and micro-brewing popularity, each brand opts for an unmissable, eye-catching design. Most entries on this list are perfect examples of that trend.
However, there's measurable inflation of overdesigning present in the industry. To stand out many go so far that they're not recognizable as beer anymore. When crafting (pun intended) Baltica beer can, Zoomix Online Design aimed to rectify that and grab attention with streamlined, ice-cold simplicity.
The result? The packaging beer that always seems cold & ready to drink. Its color and individual elements satiate your basic beer desire before you even hear that recognizable hiss of opening it.
16. ButtzVille by Levitskie Creative
Standout features:
Mix of traditional and contemporary
Lots of colors
Play on words
Located in downtown Washington Borough in Warren County, Buttzville Brewing Co. is a 5-barrel craft brewery focused on classic brew styles and new takes on the traditional ales you love.
Growing from a small homebrew shared between friends and family to a respected and trendy brewery, Buttzville came to the stage and made a splash with brand-new packaging, created by Levitskie Creative.
Just like its cheeky name. Buttzville packaging is also a seamless mix of traditional aesthetics, usually associated with old-school beer labels with fun, dynamic and colorful illustrations typical for its craft beer counterparts.
This unique take on the art of standing out, or rather the mixing of cliches to create something genuinely original is definitely a winning formula… The rest is history. Well, not history yet; history in the making.
Standout features:
Lots of colors
Rooted in local urban culture
Merger of tradition and modern
After the global pandemic, the Ural Opera Ballet needed to boost their finances to carry out the concept of the new experimental ballet. The Humpbacked Horse, the classical, traditional story was the obvious choice to be modernized with a sprinkle of the unique local vibe, gopnik culture (the youth of the industrial working class, or squatting slavs for the uninitiated) and hip-hop.
The trippy mixture wasn't enough by itself so they went a step further.
Alongside Jaws, the region's most popular brewery and Voskhod Agency, UOB released Humpbacked Horse brand beer. Safe to say - the campaign exploded and the theater filled its funds.
When creating the packaging design, Voskhod took all the ingredients, put them in a metaphorical blender and delivered an exquisite mix that simultaneously flaunts the richness and colors of the Russian folklore and presents them through the lens of the new, rebellious youth.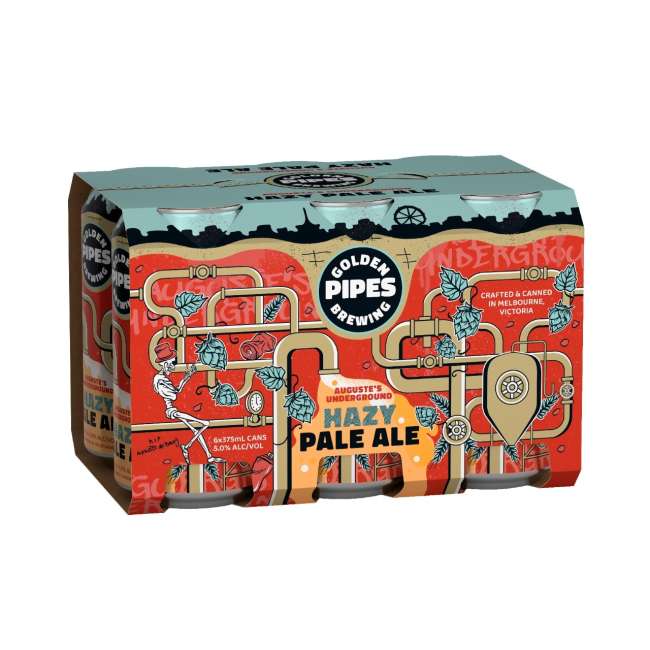 Standout features:
History-inspired
Intrinsic to the city of Melbourne
Traditional color palette
Talking about history, this is a story worth telling. Back in the year 1884, Auguste de Bavay, a Belgian brewer arrived in Melbourne and began working at Thomas Aitken's Victoria Parade Brewery. In 1889, he proved that Melbourne's water supply was contaminated by bacteria via fireplugs & dirty pipes.
This finding led to a State Royal Commission resulting in the removal of the fireplugs and replacing all of the city piping which immediately improved the quality of Melbourne's water supply, and ultimately, its beer.
Golden Pipes Brewing is basically an ode to Auguste's finding and his impact on Melbourne's beer scene. When creating the company's packaging, Craft Instinct decorated the cartoon-style artwork with expansive golden pipework interwoven with hop vines right under the city of Melbourne. These not only represent the Garden city's history and a rich underground beer scene; it also celebrates the forgotten heroes and brings them back in style.
19. El Camino by ALVAROGDESIGN
Standout features:
Storytelling elements
Great looking when paired together
Simplistic illustrations
When modernizing the El Camino brand, ALVAROGDESIGN turned to colorful minimalism to provide each beer can with a solid graphic and visual line that effortlessly stands out from the huge craft beer competition in northern Spain.
Since El Camino is focused on adventurous beer enthusiasts who like to venture into the unknown the agency adorned the packaging with surreal destinations that embody each flavor.
The Seven collection is inspired by the landscapes of Cantabria region. Its green fields, its wild coasts, the sea and the rocky mountains stand out. Time to visit them all!
20. Cerveza Caleya by Pixelbox Estudio Grafico
Standout features:
Colorful packaging
Different illustration styles
Prominent logo
Caleya's story begins in 2001 when four friends united under the motto of "making delicious beer and not getting rich with beer." After many ups and downs, Caleya Beer came to light.
The first stage of Caleya was developed in the Rioseco factory, in the heart of the Redes Natural Park and Biosphere Reserve, for its impeccable quality of water.
The first produced brews were Asturies Pale Ale, then Mayuca Amber and Goma 2, an IPA. The latter, without a doubt, became one of the most accepted and thriving in the market and is considered one of the best IPAs in Spain.
The Caleya's commitment to the so-called "new renaissance", or returning to the land with new production and returning to its strong and deep roots is the basis for their beer packaging. Created by Pixelbox Estudio Grafico, the packaging design offers a unique graphic style for each brew, while being inherently Spanish.
Standout features:
Rough watercolor style
Storytelling
Meaningful illustrations
Buffalo 9 Brewing is an award-winning craft brewery located in Calgary, Alberta. Dedicated to telling the stories of Canada's military history and its soldiers' prowess, each Buffalo 9 can is themed after a different moment in the "olden days."
Their latest addition to the roster, New England IPA is inspired by Canada's role in the famous Battle for Vimy Ridge (WWI in France). It's not a simple beer, but a gritty story that redefines the meaning of "bottoms up."
As Canadian troops began their siege of Vimy Ridge on Easter morning of 1917, trudging through sleet, gunfire and mud, they managed to defeat German troops and made them run. HAWK Design & Creative used these exact details to inform the gritty textures and color palette of the final beer can label design.
Since storytelling is an irreplaceable part of Buffalo 9 Brewing, the agency wanted this first label to establish a war journal look and feel. The story is told in the first person and uses rich descriptions. Illustrations are sketched as if out of a worn-out notebook, with rough watercolor and map textures making up the background.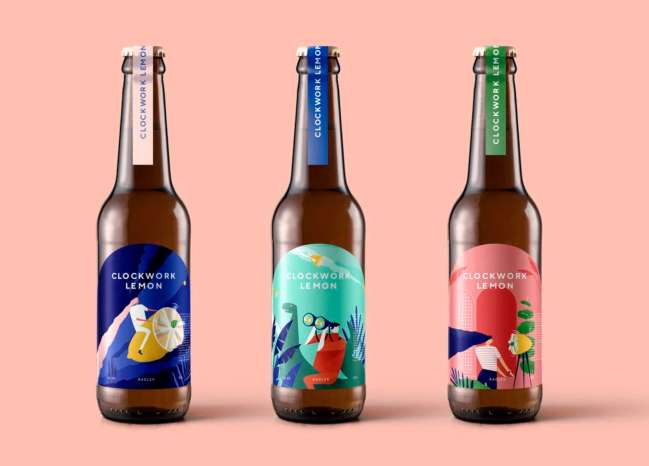 Standout features:
Lemon-hop as the star of the show
Zany illustrations
Colorful
The whimsical, experimental lemon radler, Clockwork Lemon is a brand new guest on the European craft beer packaging shelf, and with good reason. The brand turns the radler tradition upside down and positions the drink as an excellent alternative to kriek, cider and/or other beer-based fruit cocktails.
While clearly drawing inspiration from the world-famous "Clockwork Orange," the packaging paints a far less sinister picture than Kubrick's masterpiece.
In fact, when designing it, Newmen Agency opted for fun surrealist illustrations that play with absurd plots in which its namesake merged with a hop turns into a flying comet, a quadcopter, a perfect substitute for a fan on a hot summer day and a real vehicle.
The radler's zany visual language helps it come to life, both on shelves or in your fridge, after the purchase.
23. Greene King by Design Bridge
Standout features:
Vibrant colors
Woodcut illustrations
Custom typography
As one of the oldest independent breweries in the UK (way before the rise of the craft beer craze) Greene King wanted to showcase their brewing expertise to a more diverse audience by twisting and adapting traditional flavor profiles and channeling some of that good ole' Britain's folklore to create authentic, modern and ultimately, exciting brews.

Design Bridge's London Studio crafted each of the four new beers to pay homage to the legends of the old, British history icons. They used woodcut illustrations with vibrant color schemes that combined with stylish typography reference details from their respective stories.

Of course, every "story" comes with a healthy dose of the famous British humor which gives insight into their individual strengths and flavors. Every detail has been carefully planned, with a clear intent behind each concept. This is not your typical beer, it's a can containing a rich, fun and imaginative story.
24. Sarabanda by Studio Taktile
Standout features:
Lava lamp-inspired colors/patterns
Prominent logo
Artistic design
Warsaw-based Sarabanda Craft Brewery opted for a modern identity (and packaging) to showcase its unique creativity and innovation in the brewing industry.
Collaborating with acrylic fluid artist Fliss Osborne, Studio Taktile commissioned a series of bespoke paintings, created using a mixture of paint and beer components — an artistic process that required experimentation and creativity, much akin to the brewing style of Sarabanda.
Based on the innovative idea, the artist created a unique mixture combining inks with brewing ingredients such as malted barley, yeast, hops and even a beer itself, resulting in a series of over thir(s)ty artworks.
Subscribe to Spotlight Newsletter
Subscribe to our newsletter to get the latest industry news