In recent years the juice market has drastically expanded, especially since "living a healthy lifestyle" has become a priority (or a ruling fad) for many. The majority of such products offer so-called "detox programs" which, besides obvious health benefits, use the same ingredients, making the truly original brand a challenge. Enter juice packaging!
Juice packaging serves several purposes, but let's just say that keeping the contents safe is a given. The vital role, however, is branding! Alas, consumers identify products on the shelf not by tasting them but by the packaging.
To stand out and show off the beautiful fruit and vegetable natural tones, many fresh-pressed juices are packaged in clear containers. That way, consumers can appreciate what they're taking the time and money to drink, but it is something that every player in the industry is aware of. So, how to break from the formula and bring something original to the table?
We present you with twelve examples of fresh juice packaging that went the extra mile and got outside the norm by playing with color, shape, and proportions. Drink up and enjoy!
1. Rani by Ali Banishoraka
Standout Features:
Modern and vigorous
On-brand color scheme
Packaging that perfectly reflects its contents
Rani, an Iranian juice brand, is the first producer of succulent nectar with the added joy of natural fruit chunks. Upgrading and improving the brand's packaging with the Fruits Ninja concept, Ali Banishoraka added mouth-watering and energetic illustrations that are bound to attract Rani's target audience – young people and teenagers!
Since fruit chunks are the product's main advantage and the brand is widely known, the packaging is based on the presence of these sappy slices. Blue is the primary color of the Rani brand, making it stand out in the Iranian market and the industry as a whole. Besides communicating confidence and serenity, it makes each illustration and renders it delicious to look at, i.e., more appealing to the audience.
2. Helgud by Jhonnatha Design
Standout Features:
Minimalistic
Transparent (in every way)
The premium feel of the product
Helgud, a Danish brand that produces 100% natural juices with fruits harvested directly from the local Octaviano farm, aimed to create a product packaging that showcases transparency (a unique window in its quality) and emphasizes the importance of fruits and their benefits.
Since Helgud juices are sold in the city's best restaurants and regional stores (besides expansive eCommerce demand), Jhonnatha Design sought to express the idea of a premium product by drawing from the latest minimalistic design trends.
The glass bottles may look high-end, but they somehow appear familiar on a deeper level – resulting in a product that strikes a perfect balance between exclusivity and approachability.
3. Groovy by Rebase Design
Standout Features:
Original packaging shape
Color combination
Matte, bright, joyful
Groovy('s) journey starts with a dream of two brothers who wanted to create an honest and impactful brand reflecting their uncompromising approach to creating the purest juices.
Groovy is a dream come true, in every way. The packaging, designed by Rebase Design, unleashes freshness from the very first drop, or as brand ideators would put it: "The intense hit of purity just makes you Groove."
Besides carefully picked fruits, this freshness is also embodied by the packaging's unique shape, i.e., bright and joyful squeeze packs where each color reminds you of the actual flavor.
The agency added an extra layer of safety with the anti-choke caps to protect the youngest consumers.
4. Pacha by Positivity Branding
Standout Features:
Amazon-inspired illustrations
Colorful
Play on words
With a clear target in her scope, entrepreneur Marika van Santvoort needed a solid dose of Positivity for her new start-up juice brand Pacha de Cacao. Derived from Pachamama or "Mother Earth" in Inca mythology, Pacha de Cacao packaging was the finishing touch in Marika's tribute to Mother Earth.
It all started with a question - "How come the delicious and nutritious white pulp surrounding the beans is not used at all?" Pacha de Cacao celebrates an ancient farmer tradition, using the fresh pulp from the cacao fruit as a new source of nutrition and rejuvenation.
Knowing that the flourishing chocolate industry is anything but sweet, as cacao farmers work extremely hard for unjust pay, the brand aims to give back to the Amazon region and its farmers while treating the world with a great new refreshing drink.
Visually, the creative packaging pays homage to its distinct origin and brings Amazon to life with a paper-cut jungle surrounding the bottle and the box.
Standout Features:
Wellness branding
Clean and minimal
"Healthy inside, healthy outside" design philosophy
Wild & Raw brand was "born" to elevate people's wellness experience by extending 100% fresh, organic, natural juice. When it comes to juicing, Virginia needs no intros, but the branding and primarily packaging design, well, the brand required the addition of "wild" to its already existing "raw" quality. This is where Digiwits came to the stage!
The agency managed to pull off the perfect equilibrium between health awareness and the product's own nature, the balance of what the locals love, and the brand's visual appeal. 
With the appealing bottle shape, calming green hues, and authoritative typography, Digiwits created more than impressive packaging, but a timeless product that is sure to elevate the brand to the juice industry stratosphere.
Standout Features:
Charming fruit-inspired characters
Balanced color combination
Packaging that inspires an active lifestyle
Fruit Journey is a natural organic juice. While the product itself justifies this claim with flying colors, its packing design, courtesy of Alex Pogrebniak, takes inspiration from the brand's name to create the literal visual journey.
For this project, Alex created a series of unique, bright, and cheerful characters, each representing a particular fruit or berry enjoying the so-called "active life", be it exercising, cycling, traveling, playing the guitar, enjoying a good book, etc.
This way, the design emphasizes that drinking natural juice is as pleasant and beneficial for health as playing sports or doing what you love.
7. Lome by Idem Design
Standout Features:
Pomegranate as illustration/flavor basis
Pastel color scheme
Play on words
Lome Super Fruit, a company from Taranto, Italy, specializes in the cultivation and sale of fresh and processed fruit. The proud example of the latter? Lome juice!
When designing the packaging for the new line of fruit mix juices dedicated to large-scale distribution, Idem Design opted for minimalistic illustrations and a pastel color palette that, when combined, perfectly accentuate the bottle shape and ultimately, make you thirsty!
Just by glancing at the packaging, it seems as if the designers got it right on the first try! You just need to reach out and enjoy "the pleasant astringency of the pomegranate, the sweetness of the goji and the clementine of the Ionian lands, the pleasant orange flavor and the pungent taste of fresh ginger."
8. Doi Kham by Yindee Design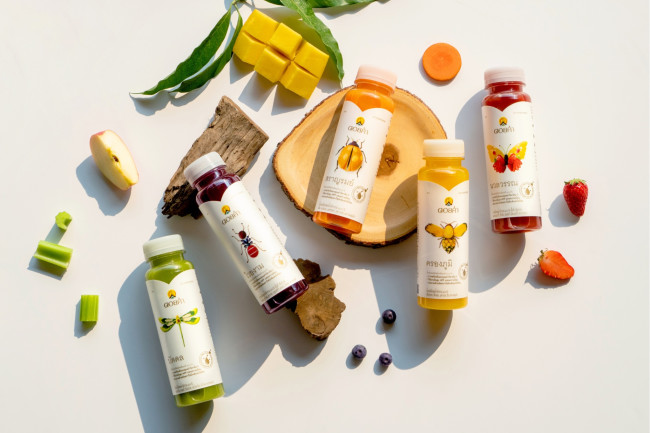 Standout Features:
Multi-layered illustrations
Clever use of "parasites"
Minimal
When creating their packaging, Yindee Design walked in the path of the primary working principle of Doi Kham's pressed mixed fruit juices – Let nature take care of nature. The brand had key visuals, i.e., fruits placed on a white background.
But let's face it, in nature, there's at least one insect perched on the organic fruit; creatures like dragonflies, ants, grasshoppers, ladybugs... Farmers call those insects pests or parasites. Those who only want to share the sweet fruit with you.
Since Doi Kham loves and respects nature and all of its members, Yindee placed five "parasites" as a symbol of that feeling – which is also conveyed to consumers ready to understand and join this principle. Upon closer inspection, you'll find that each insect is comprised of its respective drink's ingredients (or floral arrangements) which perfectly encapsulates the brand's "circle of life" mission.
9. Mmmpot by Barcelo Estudio
Standout Features:
Original name
Playful illustrations
Traditional products for the younger audience
Mmmpot is the result of the long history of the locally-produced, Majorcan juices. Named after the act of "empotar" (to place something in a pot) and combined with the characteristic onomatopoeia ("mmmm") showcases Mmmpot as a beverage that is not only hella tasty but one that is out of this world!
The main objective of this energizing packaging design, created by Barcelo Estudio is to communicate and bring a traditional product closer to younger demographics. The illustrations (akin to app icons) that permeate the bottles link juices to a digital age and the way "zoomers" communicate – through stickers and emoticons, rather than expansive copy explaining the health benefits.
10. BonJu by Toby Marsh Creative
Standout Features:
Play on words
Attractive
innovative color choice
Bonju, a range of premium super green smoothies and juices from Geneva tapped into consumers' increasing need to eat and live a healthier lifestyle. With such a successful product, the brand only needed to bottle said desire (pun intended) and add abundant creativity and enthusiasm around the topic. Enter Toby Marsh Creative!
The resulting product, or rather its packaging, is simply beautiful. Aesthetically wise it captures brand values around convenience and rewards of "going green". To go one step further, BonJu embodies its namesake, the combination of a warm welcome - "Bonjour!", the founder's name (Judy), and the product itself (juice/jus).
The agency delivered a custom logotype with complementary illustrative icons and a vibrant color palette derived from the beverages' ingredients.
11. Biopro by PRO Studio 
Standout Features:
Nature-inspired color
Creative label
Simplistic and minimal
Biopro, a company that produces natural, organic apple juice requires a logo and label design that represent the brand's idea of promoting fresh and natural products.
The packaging, designed by the aptly named PRO Studio, is inspired by nature and organic products, hence its green color scheme that accentuates the product's organic nature with a simple and modern shape.
The logo has a subtly illustrated apple both in its name and the label itself which makes the whole design very consistent. Additionally, the shape of the label gives off information about what kind of product/flavor it is just by glancing.
12. Baltea by Belli Creative 
Standout Features:
Cartoon-like illustration
Multilayered name
Colorful
When Baltea, an ice-tea brand spanning Europe and Asia launched its three flavors: Fine Peach, Fine Forest Fruits, and Fine Lemon, it required an equally refreshing packaging.
Luckily, the brand had help from the start. An Ashgabat-based Belli Creative Studio created both its name and designed how the product looks. The team created charming, custom fruit illustrations for packaging that almost make you taste the flavor before opening it.
Baltea consists of two words: "Bal" meaning honey in the Turkmen language, and, well, "tea".
Subscribe to Spotlight Newsletter
Subscribe to our newsletter to get the latest industry news