SEO isn't magic, but its results definitely are.
In this article, we will demystify SEO, give you a bit of advanced knowledge, and explain the actionable strategies that the top search engine optimization firms employ today to see near-immediate results.
Let's dive right in.
SEO is essentially a checklist of good practices that send signals to search engines to help them determine where to rank you in search listings.
If we take into consideration that 75 percent of people never go to the second page of search results, or that search engines drive 300 percent more traffic to websites as compared to social media, it's clear why everyone is raving about the business growth potential that lies within SEO.
So, when we discuss SEO, why do we talk about Google so much when the subject is search engine optimization?
Well, it's because Google is the big boss. Metrics show that more than 79 percent of search traffic comes from Google, while 7 percent is from Bing, 6.5 percent is from Baidu and 5 percent is from Yahoo.
But here's a little secret... all these search engines use similar algorithms, so if you optimize for Google, in the end, you are mostly optimizing your site for all of them.
When we talk about those rules, signals, and checklists, you have to understand that search engines intentionally keep their personal algorithms obscure while still providing general guidelines.
There are many topics to help improve SEO rankings, such as keeping your content on-topic, staying in the loop with Google updates can easily help you manage your online marketing strategies.
There are hundreds of signals that affect your ranking, and some of them have more weight than the others, but if you follow these guidelines, the results are bound to follow.
Maximize your SEO efforts! Connect with the best agencies for free.
GET PROPOSALS
How Does SEO Work?
Search engines are machines. Smart, intricate, always learning machines. Google, for example, rolls out hundreds of algorithm updates on a yearly basis, essentially trying to make the system unbeatable.
But how does that algorithm really work and how can your brand craft effective content and build online platforms that beat it?
To determine your search listing ranking, bots based on the algorithms crawl your website and analyze EVERYTHING (and we do mean everything).
These bots scan website content to search sentences for keywords and general topics, analyze your URLs, determine heading hierarchy, discover bullet lists of information, and so on.
Additionally, these bots analyze technical aspects of your website like metadata, website speed optimization, time spent on a website, and even your code. We'll explore all of these contents throughout the article.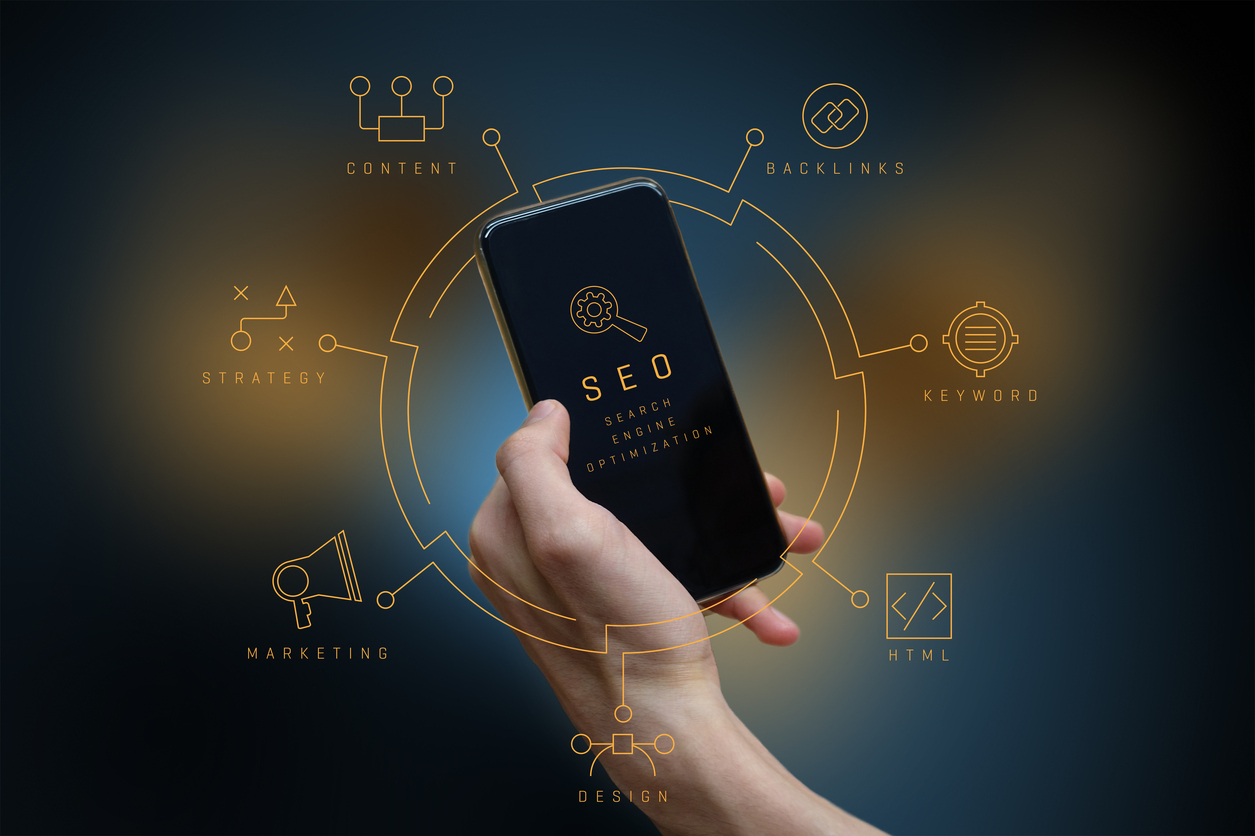 How To Do Search Engine Optimization: The Best SEO Services
SEO is a vital part (or at least should be) of every internet marketing strategy. Search engines see everything your brand does online and they will judge you for it, either rewarding your behavior with a good ranking or… not.
It is important to keep the work clean meaning to use white label agencies proven in their field of work rather than using some techniques that could harm your rankings and organic traffic.
On-Page SEO
As we've mentioned, SEO is built on numerous signals being communicated from your website to a search engine through general good practices.
Some of them are done directly from a web page, which is aptly called on-page search engine optimization. Everything from content formatting to technical tags falls under this category.
Formatting has two purposes. First, it helps people digest content easily, and secondly, it helps search engines establish the relevance of your content. When it comes to readability, nicely formatted text simplifies the consumption of information and makes your site nicer for visitors to look at.
If your paragraphs are too long, compound sentences too complex to understand, or if the language is obscure, unnecessarily scientific or snobbishly adding the "importance," then your content will snag a low readability score and high bounce rate. Or, a large number of people who leave your web page almost immediately after landing on it.
Sometimes brands will write complicated copy in hopes of impressing potential consumers.
However, this often has the opposite effect in increases bounce rates. This signifies to Google that your content is not valuable, and hinders your rankings.
Instead, brands should write in a conversational tone so that all people can understand you.
Search engines and their crawling systems also use formatting to establish the relevance of the text. Headings and subheadings (including the H1, H2 and H3 tags, CSS codes and more) speak volumes about the hierarchy and structure of a web page or article online.
In addition, brands should take care to add the keywords they are trying to rank for (in short, the terms people might be Googling), particularly in the headings. This helps Google better categorize your page or website as relevant to that topic.
Developers are teaching SEO bots to "understand" the meaning of the text by analyzing sentences, keywords, and general information. The most important headings are H1 -- which is typically seen as the headline for a page. The rest is then analyzed according to the relevance.
A keyword's placement in a sentence -- as well as the placement of a sentence within a paragraph -- also signals what your focus is to search engines. If you have an important keyword, it is best to frontload it right in the very first sentence, as close to the beginning as possible.
Technical SEO
There are important technical aspects that you should optimize for search engines.
After all, search engines are just trying to achieve a certain structure and unify the web content representation on the web through general guidelines. Therefore, technical SEO best practices will only bring you closer to the coveted top three slots of search results.
Essentially, technical SEO analyzes the quality of your website through things like code and site speed -- you know, how well it functions technically. And these features are important, too.
Did you know that by increasing your website loading time, you reduce the bounce rate? If your loading speed goes from one second to three seconds, your bounce rate can decrease by up to 32 percent.
But if your website takes around 5 seconds to load, that bounce rate goes up by 90 percent. If, however, you need 10 seconds to load a website, the bounce rate skyrockets to a staggering 123 percent.
Metadata
Have you ever noticed what happens when you post a link on social media?
There's an entire array of information about the applicable page that loads automatically. Those metadata and tags also explain your website to search engines by telling them what the content is focused on.
Metadata-rich snippets are embedded in the website HTML code and display several types of data, such as:
Meta Keywords
Title Tags
Meta Descriptions
Robots.txt
Meta Keywords
About 10 or 15 years ago, search engines allowed you to place entire groups of keywords in this metadata section. However, that opened the door for a lot of misuse and clickbait sites to trick users.
Visitors would land on a site optimized for particular keywords, only to discover that the content was nothing but filler text that had nothing to do with their search. (But back then, there weren't metrics, like bounce rates, that would signal that something was wrong either.)
This was a huge no-no for search engines because their ultimate goal is to present the best possible search result for your queries. In fact, the misuse was so large that Google rolled out an update that said they will check the content thoroughly and make the assumption about your website based on the keywords on the page -- not just the ones in your metadata.
While Google doesn't take your word as law, the meta keyword tag still exists. It's not as powerful an SEO signal as it was before, but it is believed to still carry weight, especially if you have optimized your page properly and your meta keywords and actual keywords align inside the copy.
Title Tag
The title tag is the title of every page and therefore is an extremely strong SEO signal. Title tags are what appears on search engines as the main headline,
However, it does not necessarily have to match the H1 tag. For example, here is our homepage title tag: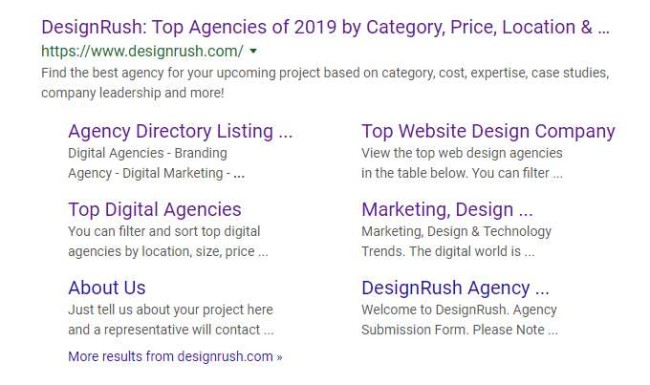 To reap the benefits, make sure that the title tag is no more than 70 characters, including spacing and punctuation. However, between 50 and 60 characters is the sweet spot, so in a perfect world, aim for that.
Right below the title tag, you will see our meta description. Just like the title tag, meta descriptions are used to describe the website page. You can use up to 150 characters. Make sure that you use relevant keywords as close to the beginning of meta description, if possible.
Robots.txt
Robots.txt isn't as much a signal as it is an instruction for search engines. This is how that code snippet looks like in your HTML:
<meta name="robots" content="index, follow">
This small piece of code tells search engines what that page of your website should be crawled and indexed on the web.
Still confused? Basically, it's asking Google and other search engines that you just published an article or web page and the world should know about it!
By adding this instruction, you give your site a better chance at ranking in search results.
However, if you don't input an index and no follow, the search engine crawlers will not look at this page and you won't rank for it.
Pro Tip: If you can't seem to rank for a page, check your HTML. Sometimes people in charge, like web administrators, leave this field "no index, no follow" accidentally. But don't fret! It can easily be changed.
Submitting The Sitemap
A website sitemap is a very basic XML file that contains the list and hierarchy of all your website pages. You can submit this to Google directly to speed up indexing. Although this is a very basic practice, it can have a positive influence on your SEO.
You can check your sitemap by adding /sitemap.xml to your homepage URL.
For example, ours would be: www.designrush.com/sitemap.xml
Before you can submit your website and sitemap (which, by the way, you do on Google Search Console), you have to verify that you are the owner of the website through a series of quick and easy steps.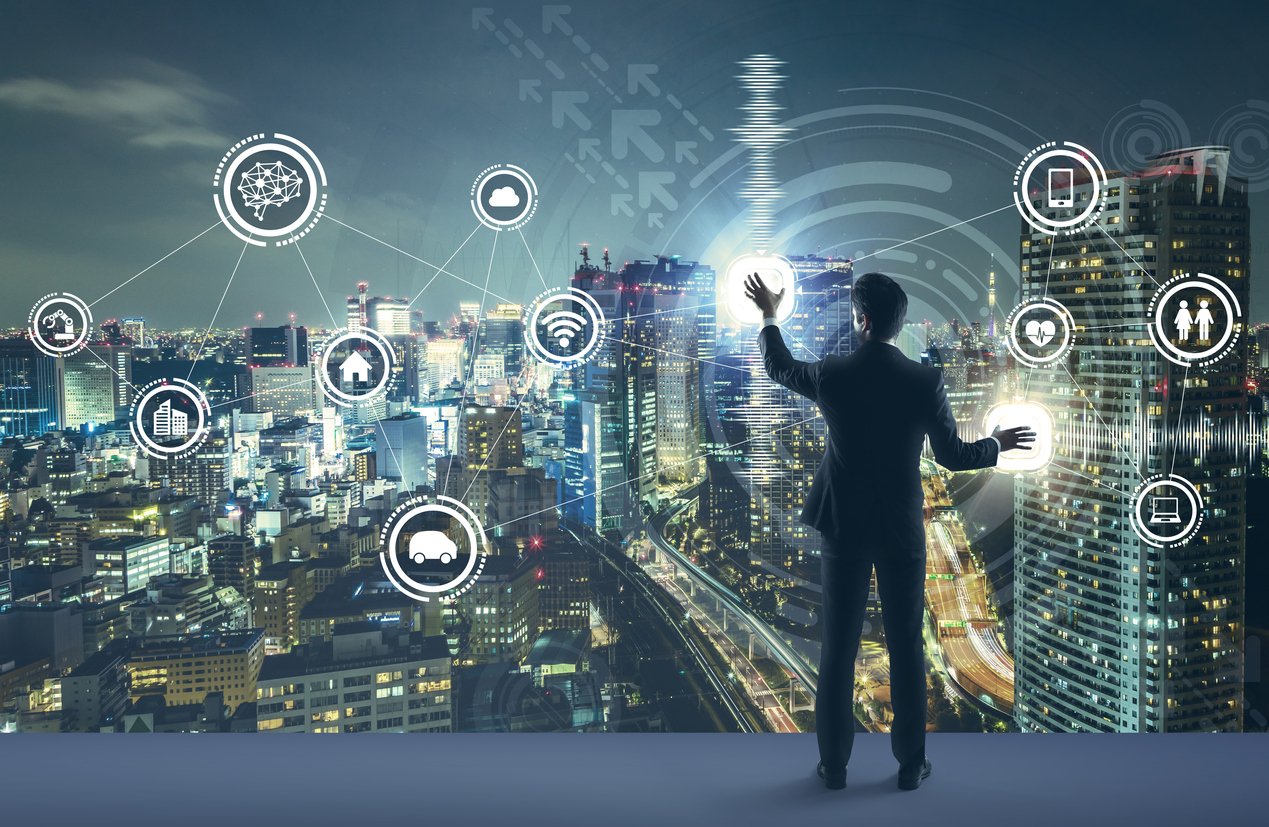 Link Building
If we had a dollar every time we've heard that link building is SEO, we would be rolling in dough. Unfortunately for everyone, no, simple link are not SEO -- link building is just a part of manySEO strategies that can help you rank better.
But although it isn't the only strategy that you should employ, it is in the top three ranking signals.
Here's how link building works. Search engines have established something that's called domain authority.
In layman's terms, the more famous your website, the better the domain authority -- consider it to be an honor metric of your website. If you post high-quality articles and are an authority in the industry, your domain will eventually be higher.
Domain authority is important for building backlinks because search engines love when you have a high-quality link, and that quality naturally improves if the website has a powerful domain authority.
By putting links within your own website's content to other sites (called outbound links), you are connecting visitors to various topics and providing them with more in-depth knowledge, ultimately making Google's job easier.
Plus, the more links that lead to your website -- especially from these high-quality websites -- the better your website and its value will appear to Google and the higher it will be ranked. Also, adding an SSL certificate to your website can increase your site's trust and help the link building process.
Interlinking
In addition to building links to your site from other online destinations, you must have links leading to other pages on your own website -- which is called interlinking.
Sending users to other similar pages on your website decreases bounce rates, increases general website traffic, and improves the time spent on your website. This can prove successful in a buyer's journey and consideration phase, as well as lead capturing.
Inbound links
Inbound links are links that lead to your website from other website pages (like we discussed in our link building section).
Quality inbound links from reputable sources and websites tell Google (and other search engines) that you are a valued brand with good content, which (you guessed it!) improves search engine rankings.
Pro Tip: When it comes to link-building strategies, get the ball rolling with affiliate marketing, guest blog posting, and influencer marketing.
Off-Page SEO
Off-page SEO is comprised of everything you do outside of your website. This includes blogging on other sites and linking back to yours (ForTech is one good example), all brand mentions across the web (whether linked or unlinked), social media marketing and more.
Learn how to boost your website traffic in 10 easy steps!
CLICK HERE
Why Is SEO Important?
So, we've discussed various aspects of search engine optimization, but how can SEO improve your business? Let's talk about actionable strategies and the results they bring.
Boosts Website Traffic
If your brand isn't online, it doesn't exist. But if you are online and nobody knows about you... that's even worse.
You have to make sure that people can find your business easily, and that's where SEO comes into play. More than 93 percent of ALL TRAFFIC comes from search engines, and more than 94 percent of mobile search comes from Google. Thus, SEO sends your brand's website traffic. It's as simple as that.
People find you easier when you rank high on search results. And it's a paradox because SEO creates more traffic, but great website traffic is also a strong SEO signal.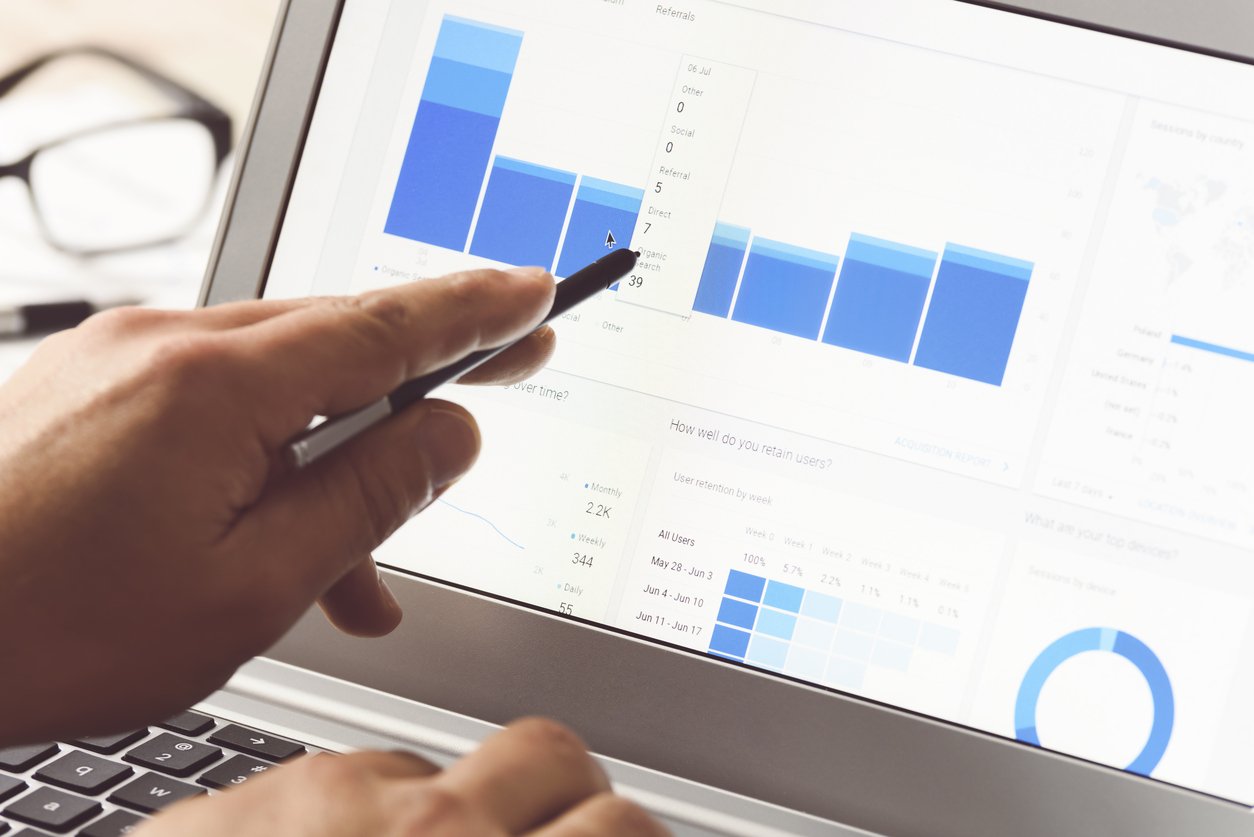 Increases Time Spent On-Site
This is another metric that tells search engines that people found what they were looking for by utilizing their search engine of choice. If people enter your page and stay there, it's clear that they have completed their search query successfully and uncovered their answer.
However, if people leave shortly after landing on your website, that is a signal that you don't provide answers, and therefore are irrelevant to the keywords originally searched by the user. Your ranking will then decrease.
Pro Tip: Find ways to increase the time spent on the website and how to engage visitors.
Decreases The Bounce Rate
Consequently, if you increase the time spent on the website and improve (or decrease) your bounce rate, you'll send a strong message to search engines like Google that your website functions well and is valuable to Internet users. Invest in better, high-quality content, effective message and clear calls to action to achieve this.
Improves Website Content
Speaking of website content, the best thing you can do for your business is to focus on providing relevant and accurate answers to everything regarding your industry, product, service or niche.
Google likes when websites are helpful, and this informative content can bring you immediate and long-term results. If you improve the content, you can increase website traffic coming from your blog by a staggering2000 percent!
Not to mention, you could increase your revenue by up by 40 percent, too.
As you create this high-value content, optimize it for certain keywords that apply to your niche.
Although optimized content can (and should!) appear on any type of web page, blogging and content marketing is an easy way to achieve this. Long-form content general improves search engine results and provides a higher value for consumers.
Not to toot our own horn, but look at our articles in our Trends & Insights section for reference -- each is well researched and provides plenty of useful information and actionable tips and tricks.
To boost your brand, go in-depth with your content and provide as many answers as you can without the fluff and empty, unnecessary adjectives words. Google rewards this action by ranking longer content higher. In fact, the average length of top-ranking pages is around 1900 words.
Plus, companies who blog have 434 percent more indexed pages on search engines! Not only that, if you update your old blog posts, you can increase traffic by more than 100 percent.
Blogs are also a resource that you can post on social media creating an easy social media marketing strategy and engaging consumers while promoting your content.
The Technology Behind SEO
Search engines know everything about your website by crawling your code, content, mentions on the web, reviews about your business and more -- when we say everything, we literally mean everything.
Keywords
Keywords are what people type into the search engine. Then, based on those keywords, search engines provide results.
And those keywords are found in the code, in the content, in a title tag and meta description, and even in your URL. Through crawling and indexing your pages, search engines collect these keywords.
A large part of SEO is determining the best keywords to use in the content. And one of the most common SEO mistakes is to think that you know what keywords people use.
You know what you WOULD use, but you need to use real metrics (and there are plenty of tools for that) and find the best performing keywords. One of these tools is Google Keyword Planner.
Pro Tip: Avoid keyword stuffing. You have probably encountered content on the web that prominently features works that are not arranged properly and look kind of unnatural. That was due to SEO and, while it's good to have a keyword mentioned in an exact order, it's also important to weave them into your text so that they don't look out of place and, most importantly, make sense to the reader.
Longtail Keywords
Using longtail keywords (or several words within a search) is the best SEO strategy because, through long-tail keywords, you can also optimize short tail keywords at the same time.
Here's a fact: 50 percent of search queries that people type into search engines contain four or more words.
This allows you to potentially optimize for more than one short-tail keywords within one long-tail keyword.
White Hat SEO & Black Hat SEO
Whitehat and blackhat SEO doesn't refer to fashion. Instead, it refers to the potential penalties websites can face from Google and other search engines if they don't follow best practices.
If you remember, we said at the beginning of this article that search engines (mainly Google) roll out hundreds of algorithm updates every year. That's not counting the major Google updates that change the ranking system every now and then, too.
If you follow good practices and optimize your website according to the rules and guidelines, you don't have to worry about being penalized. But if your website is penalized, you may never regain Google's trust again, even after you remove the cause of penalization.
That's why it's important to play by the rules.
Black Hat SEO tactics can bring instant results and good rankings by aggressively targeting the search engine, sometimes through loopholes in the algorithm, in question without any regard for the human user.
However, these fast results are fleeting. With black hat SEO, you can win some battles, but never the war. White hat SEO is, of course, proper search engine optimization that plays fairly and by the books. This breeds strong results and benefits for your brand long-term.
If you decide to hire external help for your SEO efforts, make sure to use professionals -- Google won't care to whom you give access to and who made the changes to the website.
But incompetent SEO agencies and specialists can drive your website into the ground. You will lose money, website authority, rankings and visibility in search results.
That's why it is imperative to find the right marketing experts who fully understand SEO, know how to implement the right strategies and can improve your search rankings effectively.
The Top SEO Tools Marketers Use To Track Progress
To better improve your SEO, use the top tools to see in-depth metrics and analyses. Following this, you can then create a strong SEO strategy that will benefit your business.
Some of these tools include:
Why Search Engine Optimization Is Important For All Online Businesses
The most important thing that you should take away from this article is that SEO truly provides results from affordable SEO services for small businesses to enterprise undertakings in this regard. Each and every little edit you make to your website will be noticed and measured by search engines, and every large change provides the opportunity to be noticed and rewarded by Google and other search engines.
Our final tip to maximize your SEO rankings is to never ignore the technical aspect of search engine optimization.
Take the time to shorten your site's loading time and site speed, provide meta tags -- and do it all from the get-go. Plus, invest in link building strategies to promote your website and, most of all, remember that content is still king -- even in SEO.
We'll find qualified SEO agencies for your project, for free.
GET STARTED
Subscribe to Spotlight Newsletter
Subscribe to our newsletter to get the latest industry news