Some brands look for the best app to make logos or partner with talented artists in the field. For this article, we've hand-picked 22 best logo design examples to inspire your branding (or rebranding) strategy.
These stunning examples show how a graphic design company following these rules of logo design can help produce distinctive and timeless logos:
Standout Features:
Modern and sleek icon illustration
Unambiguous logotype
Versatile and scalable layout
Halley Stevensons has carved a name for itself as the world's pioneers of waxed cotton textiles. To highlight such an illustrious brand reputation, LBD Studio created a contemporary logo design that pays homage to the company's century-long excellence.
The first thing that catches the eye is the sleek and modern brand symbol. It's composed of interlocking 'H' and 'S' letters to represent the brand's initials, designed in a never-ending loop to signify the company's innovation and sustainability.
The designers paired it with a refined Halley Stevensons logotype that's written in a single, simplistic sans serif font. They didn't forget to throw in "since 1864" label right below the brand name, a great way to establish credibility and keep the heritage.
Neutral colors like white, grey and black also make the logo versatile and scalable to use in various illustrations.
Standout Features:
Bold and vibrant wordmark
Integrated magenta speech bubble
Complementary font pairing
Spin Brands, a social media agency that constantly evolves, needed a fresh face for its newfound demographic. Pithy Studios stepped in to rework the company's branding, especially the logo – and did it so remarkably.
The designers ditched the old image and created a new visual identity that looks more eccentric, dynamic and modern.
From the multicolored loop logomark, they replaced it with a "Spin" logotype that's written in a bold and wide font style. In contrast to this, the word "Brands" is written in a more subtle typeface to balance it out and drive the focus back to the main wordmark.
A magenta speech bubble also sits beside the brand name like a punctuation mark. Why a speech bubble? It's a visual representation of their ability to keep the conversation going!
3. LILA by Coalition Design
Standout Features:
Slim and subtle logotype
Geometric heart-shaped symbol
Soft and soothing color story
Unlike most dating apps, LILA connects people by providing real relationships and compatibility insights. The problem is, its existing brand strategy didn't reflect that.
So, Coalition Design stepped in and refined its visual identity, as seen in this sophisticated logo design.
The designers scrapped the cutesy and cartoony character of the old logo and updated it with sophisticated and future-forward elements.
For the logomark, they took the capital L from the brand name and created a tangible, three-dimensional figure that also took the shape of a heart.
To take it up a notch, they added an interior isometric grid that's based on 60˚ equilateral triangles. These are symbolic illustrations that connotate Lila's inclination to provide relationship insights based on astrology.
Beside it, the logotype is a nod to the previous one – a soft, light and subtle typeface. But this time, the singular sans serif font looks way more streamlined and professional.
Standout Features:
Integrated logo symbol
Minimalist and straightforward typography
Use of neutral colors
As a prolific interior designer, Kirsten Conner needed to reintroduce her work to a bigger market in the Pacific Northwest. Enter Two Wolves Creative's rebranding mission that put this logo design right on the frontline.
The designers used a symbol and wordmark to illustrate this modern and industrial visual identity. They took the letter K in the brand name and integrated it with a boxed figure that perfectly represents the brand's field of expertise.
Alongside this icon is the brand name displayed with the same kind of contemporary aesthetic. They used straightforward typography to show elegance, putting Kirsten Conner ahead of the competition.
The use of monotone colors like black and grey also set the tone for professionalism and absolute proficiency. Having a single color code makes it easier to have many logo variations.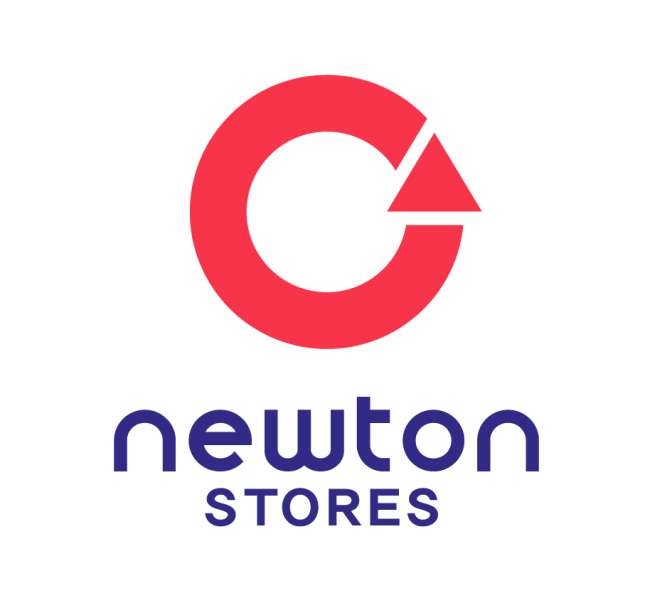 Standout Features:
Highly symbolic logomark
Futuristic yet readable typeface
Bold color combination
Marking its 50th year in the industry, Newton Stores wanted to galvanize its place in the hardware retail and wholesale market. The solution? A complete branding facelift, and yes, that includes this amazing logo redesign by UBlac Agency.
The new ensemble features a looping logomark composed of three aspects that symbolize Newton's name: a telescope for innovation, a prism for colorful reflection, and a replay icon for continuity.
With such an abstract illustration, having the logotype written so clearly and legibly is a smart design choice. It doesn't look too plain, though – the font leans toward a more industrial yet futuristic style.
Using bright primary colors for these two visual components also makes the logo stand out in a sea of monochrome pieces. Blue and red are a striking color combination that immediately catches attention.
6. Bazar by Lucied Branding & Web
Standout Features:
Double-representation of brand identity
Neat and pristine typography
Sophisticated color choices
Bazar is a traditional European cocktail bar that serves a wide range of drinks and spirits. Due to rebranding, the company commissioned Lucied Branding & Web to design a new logo that would effectively introduce the pub to a modern market.
The designers zeroed in on the English meaning of Bazar, which is a thrift store. At first glance, the logo resembles a hanging sign anchored by the two As of the brand name. But upon closer inspection, they are actually reversed cocktail glasses.
These visual elements are aptly incorporated into the logotype, which is framed in a rectangular shape to emulate signage. They went with soft and decent colors like muted gold, black, and white to reflect the high-standard bar atmosphere.
7. ATS Dealers by UI Slick
Standout Features:
Monochromatic color scheme
Distinct geometric pattern
Simple yet expressive branding
ATS Dealers is a US-based company that resells premium software and marketing solutions. To better resonate with their target audience and solidify their image on the market, they needed the help of UI Slick for a logo and branding makeover.
UI Slick takes branding seriously. Aside from making sure the graphics are visually appealing, the agency believed that brand logos should express the brand's values.
Since the brand works with AI and internet software, the agency used a futuristic typeface to display the brand name. This computer-inspired font style sheds light on the brand's products and services more.
Sitting comfortably beside this wordmark is the distinct geometric logo characterized by three minimalist arrows forming a triangle. The agency leveraged this design with a monochromatic color story: a bright shade of blue for the bottom arrows and a lighter shade for the top arrow.
Standout Features:
Scalable layout and design
Neutral color story
Simple and modern typography
Charisma Management is one of the biggest cannabis retailers in the Pacific Northwest, and this logo created by award-winning design firm Propaganda Creative is a real charmer.
The simplistic symbol-and-wordmark combo gives the brand its fresh, approachable, and modern personality. We can attribute its clean and streamlined look to the use of a single sans-serif font to display the brand name.
Along with it is a 2D icon of a lightning strike, which is the brand's signature icon. With this minimalist approach, the logo is versatile and scalable enough to come in different variations.
Using neutral colors light white, charcoal, and blue also helps this cause. They go so well together, that's why using them interchangeably is not a problem!
9. Bildi by MOOHII
Standout Features:
Multifaceted turtle logomark
Bold typeface
Simplistic color story
Bildi is an online marketplace that makes it easier for people to buy materials for home repairs and improvements. In this case, MOOHII designed the perfect logo to represent the hassle-free building experience that the company offers.
The designers created the logomark around the brand's mascot, which is a turtle. This icon makes the brand instantly recognizable, but to make it more meaningful, they deconstructed it to reveal other visual elements like a smile, a house silhouette, and a sun above it.
Along with the symbol, they used a simple block of text to display the Bildi brand name with utmost clarity. It's written in bold text, with the letters almost looking like pieces of bricks – large enough to read even from afar!
10. Shril by Analog Digital Solution
Standout Features:
Colorful and geometric symbol
Straightforward wordmark
Modern and artistic layout
Shril is an online events-booking platform that provides a hassle-free experience to users. In creating its logo, the brand's goal is to present its carefree, fun, and urban personality – something that design agency Analog Digital Solution successfully delivered.
To highlight such an outgoing character, the designers whipped up a logomark that's composed of alternating spheres and triangular shapes in multiple colors. This also perfectly represents the company's versatility in handling various events – from weddings and birthdays to personal celebration events.
Besides the illustration, the Shril brand name is written in white to balance out the colors and dynamics of the other. It's also displayed in bold sans serif typeface to maximize the readability aspect.
11. QOSSMIC by Studio Florian Hauer
Standout Features:
Memorable Q logomark
Cosmos-inspired aesthetic
Scalable graphics
QOSSMIC is the rebranded child of SensioLabs Symfony, a German team of pioneering IT development experts. For this logo redesign, Studio Florian Hauer took inspiration from the brand name's roots – the cosmos, which means "harmonious system".
With this concept, the designers created a logomark that took the brand name's initial (Q) and built a fluid and strong illustration around it. They assembled it using spherical shapes to form an abstract circular image that serves as an epitome of perfect harmony.
Underneath the icon is where the brand name sits – written in a futuristic yet ultra-simplistic font style. The whole illustration is also written in black, which gives the brand its professional character.
From a design perspective, this monotone color also makes the logo more versatile and scalable for variations.
12. Alto System by Evenflow Studio
Standout Features:
Symbolic shapes that mirror the brand's products
Refreshed brand identity and logo
On-brand colors that spark familiarity
Established in 2016, Alto System supplies housing materials such as ventilated facades, light industrial housings, and roofs.
The company already has a good customer foundation. However, Alto System wanted to strengthen and refresh its image with improved branding integrating the latest trends. And Evenflow Studio was quick to answer this call!
Staying true to the brand's nature of business, the agency created a logo design that symbolizes one of the products offered by Alto System. They mimicked the shape of an aluminum roof with rounded lines plotted in gray and green.
The colors used are also intentional. While the gray color recognizes the materials used by the brand, the green shades pay tribute to the previous branding created by the first owner of the company.
Lastly, the brand name sits under the roof-inspired logo. From afar, the overall design resembles a house -- a clever homage to the company's nature of business.
Standout Features:
Alluring two-color story
An overall sleek and modern branding
A-shape logo design for better brand recall
ADAPTNXT provides software solutions geared toward different industries in the digital space. The entrepreneurs behind this brand were quick to adapt (hence, the company name) to the changes brought about by COVID-19.
With this, they've touched base with Imajine, a branding and web development agency, for a branding and logo design that carries the said value.
The agency came up with a simple, sleek, and modern A-shaped logo -- a nod to the brand's value-based technology niche and initial.
The brand name sits comfortably below the logo symbol. Painted in colors orange and purple, the agency highlighted the brand's mission to adapt by strategically dividing the brand name by color: "Adapt" is in orange, while "nxt" is in purple (or vice versa).
Standout Features:
Dual-representation logo icon
Contemporary design approach
Sophisticated font pairing
This Finch & Daisy logo design by Finn & Gray is part of a massive visual overhaul that aimed to introduce the business consulting company to a modern audience.
To achieve this, the designers updated the logo's iconic bird illustration that's been associated with the company for years.
What used to be a greyscale image has now flourished into a contemporary outlined figure that's painted with the brand's earthy colors.
The best part? It sits in the middle of the brand name, carrying a twofold purpose. One – to serve as the main icon, and two – to symbolize the ampersand that binds the brand together.
The whole ensemble is also a masterclass in font pairing. The designers used a sophisticated serif font for the brand name, then paired it with a straightforward sans serif font to identify the business. Font dynamics, check!
Standout Features:
Warm and soothing colorway
Minimalist symbol design
Simple and cohesive typography
Ahava offers doula services to women who need comprehensive assistance during the course of their pregnancy – including the postpartum experience that sets in after the birthing experience.
Intricate Designs, its logo creator, made sure that it's properly represented in this alluring and deeply comforting illustration.
The outlined icon is ultra-simple, yet it portrays a powerful image – that of a mother carrying her child. It can also be perceived as an artistic rendition of a heart, which gives the brand its loving and reassuring character.
It sits atop the brand name, which is written in a wide sans serif font for legibility and sophistication. They also included the term "doula services" below the brand name, which allows the customers to instantly learn what the company has to offer.
16. Eaxtron by Colin Roeke Graphic Design
Standout Features:
Sharp-cut logotype edges
Futuristic "X" design
Blue and orange color contrast
Eaxtron targets a specific niche, and companies of this nature often struggle to stand out in a saturated market. However, Colin Roeke Graphic Design did a marvelous job in redesigning this logo and completely elevating the brand's positioning.
What used to be a plain and one-dimensional logotype has now turned into a futuristic and professional-looking illustration. It's composed of the Eaxtron wordmark designed with sharply cut edges to highlight the company's technological advancement.
The letter X has been highly stylized in a way that represents the company's top-of-the-line offerings, which are battery connectors. The designers used a contrasting blend of blue and orange for the symbol and logotype, which added more flare to the design and made the entire image all the more appealing.
17. DJ Effects by revamp.design
Standout Features:
Integrated audio cable logomark
Cohesive typography
Vibrant color combination
Music gets people going, and this uber-creative logo design for DJ Effects by revamp.design has got the moves.
The most creative and eye-catching element here is the logomark that takes the form of an audio jack's cable, swirled and looped to visualize the word "DJ" from the brand name. The stylish figure instantly piques the audience's interest, and the outlined style keeps the visual clean and simple.
Beneath that logomark and logotype combo sits the word "effects", along with the tagline that reads "music is life". Both texts are written in the same outlined fashion – eccentric, but still very readable.
Blending yellow and red – two vibrant colors – also gives the brand its eclectic and outgoing character. Perfect for the clubs!
Standout Features:
Fresh color palette
Fun and friendly visual identity
Recognizable brand icons
Going to the dentist is a fear shared by many. Not when you choose to go to Dr. Todd Dental, though, thanks to this logo creation by Eyetoeye Design. See, it's all in the branding!
Instead of following the flock of medical brands for professional and understated identity, this one took a more friendly and childlike approach. Doing so made dental care look like a fun experience.
The designers illustrated the brand name using a single rounded sans serif font, in varying scales. This added a more youthful vibe to the brand's identity. They also used several shades of blue to bring out the brand's fresh and fun personality.
Along with the wordmark, they added an outlined icon of a tooth – recognizable from the get-go. There's also a curved line below that binds all these elements together, which also doubles as a smile. When you see the logo as a whole, it's like looking at a smiling character!
19. JOIN by Alison Chandler
Standout Features:
Exciting combination of color and typography
Breaks the conventions
Calls to action (literally)
"When a plan to become more environmentally friendly was adopted for Savannah and Tybee Island, the next step was to create a compelling visual brand identity for the new initiative."
Enter Alison Chandler! Drawing from her personal devotion to environmental issues currently plaguing the world, she saw the project as an exciting chance to make "a genuine difference."
This was more than your typical client or business initiative. A proper name, tagline, and logo design were essential for it to speak to the entire community (and the world). Environmental campaigns tend to look samey, so Alison wanted to push conventions further.
The resulting logo is a memorable one-word name, JOIN, which implies it's not just another "green" initiative, but an invitation for all to work together for a healthy local ecosystem. In fact, the bolded "in" almost alludes to the whole phrase "Join In."
The colorful logomark reflects the organizers' vision of coordination and unity, standing out from the monochromatic green details of other environmental initiatives.
Standout Features:
Multilayered meaning
Symbolic color scheme
Simple, professional typography
Softaccel Solutions focuses on taking care of servers and building "cool software products" that solve various operational problems, cut costs, make people happy, and bring peace to the (business) world.
When designing their logo, Arience Design agency started with the client's equivocal slogan: "Make IT happen!"
The resulting symmetrical design embodies the company's philosophy — breaking the conventions and "thinking outside the box" to deliver seamless software solutions. Additionally, besides drawing attention, the dominant orange color communicates creativity, freedom of expression, balance, and fascination with innovation.
21. Hex by Logo Talks
Standout Features:
Symbolic
Striking color combination
Highly professional outlook
Now, this is a prime example of how a brand's mission, goal, and approach come together seamlessly into one memorable logo. Designed by aptly named Logo Talks, it literally speaks about how Hex Developments charms the real estate market.
The agency interweaved the company's namesake and industry focus into a memorable logomark. The subtle gradient in the reds creates a pseudo-3D effect in the "buildings" instilling the feeling of reliability and trust.
The sans-serif, bold typography on the other hand, instantly captures onlookers' attention, easily lodging the company's name in their collective psyche.
Standout Features:
Patient-centric
Impactful tagline
Regal typography + free-flowing initials
Working with one of San Diego's most renowned healthcare providers gave Chris Chase Design the opportunity to really show off and the agency really had it in the bag. Designing a medical logo and branding manual used to rebrand Palomar Health, Southern California's Largest Healthcare District, CCD creates a unique, patient-centric visual experience.
The soft, almost free-flowing way Palomar Health's initials fashion delightful monogram is a testament to the brand's practice - seamless experience and unmatched medical service.
Subscribe to Spotlight Newsletter
Subscribe to our newsletter to get the latest industry news