The footer, a crucial but frequently underappreciated component, offers a direct entry into the architecture of the contents and displays some of the most critical data on your website.
Everything appears to happen on the "main" part of the website, making it seem that visitors don't pay much attention to the elements below the fold. Fortunately, consumers have learned to seek footers, and their use has developed into a well-known and established design pattern.
Footers make locating information easier, especially when the visitor misses it on the header, menu or navigation space. The design should be straightforward and clear, the typography legible, and the footer aesthetics must match the website's. The sitemap, contact information, social media connections, privacy statement and terms of use should all be included.
So, how to tell if you've got it all right? Check out these highly creative and practical footer designs and get inspired.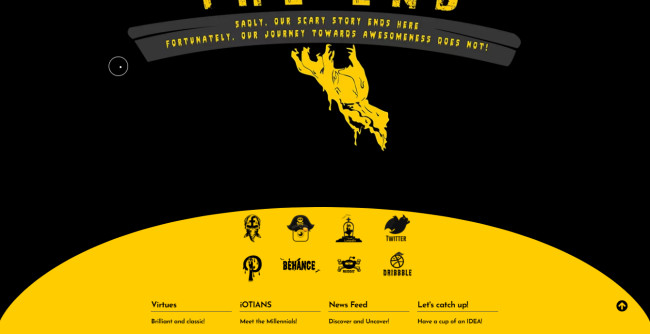 Standout Features:
Black-and-yellow aesthetics
Customized social media illustrations
"Jump back top" button
The guys behind IOTA Infotech don't shy away from their modern, laid-back yet serious work ethics. As creative geniuses, every part of their website has quirky elements that help the team showcase their extensive creativity. And their footer is not an exception!
Their footer leverages the modern yet evergreen black-and-yellow swag as the background of the footer. A horizontal yellow arch breaks the pitch-black screen across the layout. The majority of the yellow space is filled with social media links. However, each logo was redesigned to be more "IOTAian."
Beneath the spooky takes on the social media logos, you'll find quick links to some significant web pages on the site. In the bottom right corner, you have the "jump back top" option to help you quickly start again and enjoy the visual journey one more time.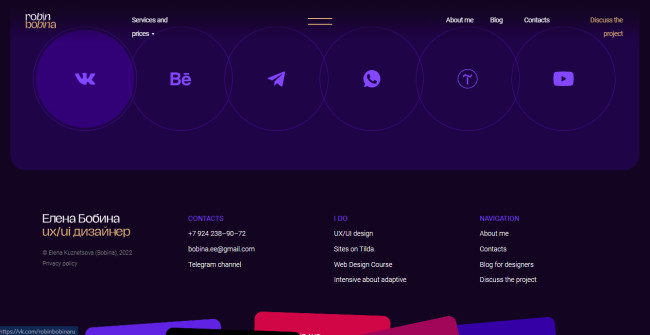 Standout Features:
Clean and direct
Three lists
Contrasting typography on a dark background
Robin Bobina is Elena Bobina's website that showcases her design portfolio. The footer is designed cleanly and straightforwardly. The background color switches between shades of purple throughout the layout, ending with a darker shade in the footer.
There are three categorical lists designed as menus that help people contact her, learn more about Bobina's work or navigate the website easily. The character spacing is wide and the sans serif typeface makes the information accessible and easy to read.
There's a nice touch of creativity below the footer that playfully breaks the monotony. When you hover over colorful cards whose edges stick out, you'll see the whole card with a terrific quote or testimonial.
Standout Features:
Dynamic Background
Minimalistic
Bolded vital information
Concerto PR is an international public affairs firm that helps political parties worldwide, primarily focused on Africa. Their website and footer were designed by Pluriweb, ensuring that Concerto's seriousness and professionalism remain intact.
The footer lies on a dynamic background with a dominant pastel blue and several pattern-like rotating Concerto logos. The footer offers a minimalistic and straightforward typeface with basic contact information targeting each of their geographical headquarter.

Below, there's a trademark claim in the bottom left corner and the "terms and conditions" and "credits" in the bottom right corner. These elements are presented in a bolded white sans serif font.
Standout Features:
A minimalistic robot doodle drawing
A site map menu
Distinctive social media links
Local Robot is a studio with a vision of combining an endless stream of creativity with a fun work approach, enriching its clients' visual world through authentic designs.
The footer on this website stays loyal to the overall fun atmosphere associated with Local Robot. There's a cute minimalistic robot doodle on the screen's left side, accompanied by the company's nametag and fields of service.
Next to it is a site map menu in bold white, tilted sans serif font, providing a sense of motion and inviting the browser to act.
Lastly, there are social media links in yellow on the right, helping them stand out and decorating the corner of the footer.
Standout Features:
A relaxing two-color palette
Clever display of brand performance
Inspirational "take-away" message
UI Viking is Alex's artistic pseudonym, a creative designer with a prominent 15-year-long career across industries.
This website showcases the wide range of designs Alex has worked on. The footer is a minimal design leveraging the soothing mixture of blue and white on a black-and-grey background.
Rather than just tediously going through his career achievements, he cleverly portrayed the summary of his successful projects and career stats.
Below the creative brand performance display, UI Viking added a nice touch to the footer: a reminder that courage pays off through a short and sweet inspirational message inviting you to tread through uncharted territories – like Alex.
Standout Features:
A "wavey" gradient
Serif typography in the headlines
Pill buttons for the CTAs
The Inner Alignment is an organization specializing in helping reduce stress at the office. It aims to equip leaders with a mindfulness toolbox to help employees thrive, even in stressful situations.
Their website design, created by Kait Schmidek, helps build a relaxing and soothing atmosphere that remains intact in their footer design. The main element contributing to this effect is the "wavey" horizontal background gradient that starts with warm colors and gradually slides to cool ones.
They invite you to keep exploring, reach out to them or become a follower of their options and services. The spot for your email and the sign-up button is both in pill form, so they're difficult to miss. The gradient is "populated" by three bolded serif headlines that are clean and easy to read.
Standout Features:
A dynamic, blobby background
An interactive, assertive CTA
A minimalistic design
Fleava is a digital agency that elevates brands through innovation across industries. Their website design delineates this intention better than words can, and the same goes for their footer design.
Simple, minimalistic, yet assertive and authentic, the footer lies on a dynamic blobby background playing around with the monochrome spectrum gradient. The "canvas" is interrupted by a distinctive, scaled-up call to action with a subtle transparency effect that provides an animated appearance. The liquid design resembles a dark and mysterious lava lamp.
Below the headlined CTA, you'll find the vital information presented in a footer, all maintaining the color schemes and effects of the headline.
Subscribe to Spotlight Newsletter
Subscribe to our newsletter to get the latest industry news