We'll set the record straight. Looks do matter - at least in the case of websites.
75% of customers base a company's credibility on its web design and almost half of the user engagement depends on the way a website looks.
Hence, investing in top web design companies sounds like the right thing to do. Research suggests that an improvement in UX can bring 9,900% in return of investment. And that's likely why you're looking for custom web design inspirations right now.
Luckily, our experts know standout web designs that businesses can learn from. Below are 25 examples handpicked by our team, almost all of which received DesignRush's Best Website Design award.
If you are looking to build a website but don't know where to start, read on as we guide you through the ins and outs of custom website development.
We'll find qualified web design agencies for your project, for free.
GET STARTED
25 Great Examples Of Custom Web Designs
The Best Corporate Web Designs
Featured in DesignRush Best Designs
Designed by Digital Silk | Agency Profile
Tecnam is an Italian aircraft manufacturer founded in 1948. They are known for their next-generation piston planes.
The company tasked Digital Silk to create a website that showcases the brand's rich history and significance.
The agency delivered through their motion graphics "scrollytelling" technique. The horizontal timeline, creative use of aircraft models, engaging videos and high-quality photos truly make this website functional and highly aesthetic.
The fonts and colors also reflect the exclusivity and luxury expected from the aerospace brand.
And the best part? The website looks and functions just as well on mobile devices.
Featured in DesignRush Best Designs
Designed by Immersive Garden
21 Capital is an investment company that handles complex projects like asset management and digital asset intelligence.
However, its website is the complete opposite – easy and minimalistic. This design strategy allowed the company to present its qualitative and quantitative services without overwhelming the user.
This web design also stands out due to its dynamic and immersive interface powered by motion graphics, its perfect balance of dark and light colors and most importantly, its usability.
Featured in DesignRush Best Designs
Land Rover is an automotive brand that needs no introduction.
The brand gained its top spot in the industry because of its premium products and deep understanding of what the market wants – tough cars that get the job done.
These are evident in how they designed their website and its user interface. It is luxurious, product-focused, interactive and easy to navigate.
This design successfully guides the user through their unique customer journey, something that not all websites can do.
Featured in DesignRush Best Designs
Designed by G2Design
Capital Harvest is an agricultural finance company based in South Africa.
They are known for their solution-driven approach in business, which they were able to reflect on their website. The design is corporate, but it's not intimidating.
The use of industry-related imageries makes it familiar to their target audience. Stunning photos stand out against the clean white background, letting the images and texts speak for themselves.
It goes straight to the point with what the company has to offer.
Featured in DesignRush Best Designs
Mastercard lets users experience what the world has to offer. This brand of experience is evident in the company's website.
The pages come to life with videos that trigger a user's appetite for life. Even images and texts have animated transitions that make the website experiential, so to speak.
This engaging interface complements the brand's lively colors without a hint of exaggeration.
The company managed to exude class and excitement in this award-winning web design.
The Best eCommerce Web Designs
Designed by Digital Silk | Agency Profile
G Pen is a brand of vaporizer that smokes other brands in the CBD industry, thanks to their well-designed online store by Digital Silk.

The website is full of compelling product shots, as expected from a retail brand. What sets this eCommerce design apart from the competition is its attention to the conversion funnel and how it addresses every user's needs.

If you have doubts about the product, you can easily reach a representative via live chat or FAQs. The Add To Cart button is almost as prominent as the product itself, while customer reviews and newsletter subscriptions await those who are fans of the brand.

The web design also helped the brand justify its price because it gives potential buyers all the information they need on the product in the most visually engaging manner.
Featured in DesignRush Best Designs
Designed by DRXLR | Agency Profile
Ceremony Coffee Roasters is a local coffee brand from Maryland, U.S.A. One look at their minimalist website, and you'll know that they care about coffee and the people drinking it.
The overall design is light and easy on the eyes. The color palette is not typical for an online store selling coffee and the photos look stunning against the pastel backgrounds.
But what makes this eCommerce web design noteworthy is how it presented the products. Customers looking to buy coffee will see fruits, nuts and desserts on the menu. They even get to taste colors!
These aren't exactly what most people have in mind, but Ceremony knew that customers will need it to differentiate the complex tasting notes of the coffee varieties they have in store.
Featured in DesignRush Best Designs
Designed by Spring/Summer
Simply Chocolate is a Copenhagen-based dessert company known for curating beans globally to create refined yet modern and exciting chocolate variants.
As innovative as its product is the eCommerce website. It is bright, colorful, engaging and undeniably unique.
The website's design structure and the immersive use of parallax scrolling give users a one-of-a-kind shopping experience.
Simply Chocolate made sure that the audience will never lose sight of their products and made it easy for anyone to check them out. In doing so, this website deserves a spot on our list.
Featured in DesignRush Best Designs
Warby Parker is an eyewear company that revolutionized the optical industry. What started as an online venture grew into brick-and-mortar stores across the US and Canada. Their secret? Affordable products, trendy styles and a well-designed website.
Their eCommerce site is simple, fun and easy to use. Just like a good pair of glasses, the website complements the brand personality. You will not find excessive copies or cluttered images. The website stays stylish without trying too hard.
Its most notable feature, however, is the integration of Home Try-On. It lets customers try the products at home for free. Just like everything else on the website, the whole process of checking out and returning items is also a breeze.
With the buyer's needs in mind, Warby Parker designed a website that gives a unique brand experience online and offline.
Featured in DesignRush Best Designs
Designed by Numbered.Studio
Cann, a cannabis-infused tonic drink, is branded as "the future of social drinking". Not only does the brand sound interesting, but it also looks like one. Similar to its products, the website is fun and fizzy, colorful and playful.
As a new player in the industry, the company knew that its eCommerce store should also inform the market and not just sell its products. To do this, they added a "Learn" section where visitors can read about the products and ingredients used.
Whether you are into the ingredients or not, this website can make anyone want to try the product out.
The Best Publisher Web Designs
Featured in DesignRush Best Designs
The Economist proves that big data doesn't have to be boring. This microsite tracks energy usage per U.S. state per year.
Although the site shares in-depth research on the topic, visitors are not riddled with information.
One can intuitively find the needed data and see patterns without leaving the page. All thanks to a well-designed and interactive user interface.
Featured in DesignRush Best Designs
Designed by Hinderling Volkart
If a website design can send you in a trance, this one will do the trick. Hit Parade takes audiences on a musical journey through time and space.
The content can be presented using a list with interactive buttons, but this website went above and beyond with interpretations of constellations and the galaxy.
Although the charts are from Swiss rankings, anyone can enjoy the website because after all, music is universal.
Featured in DesignRush Best Designs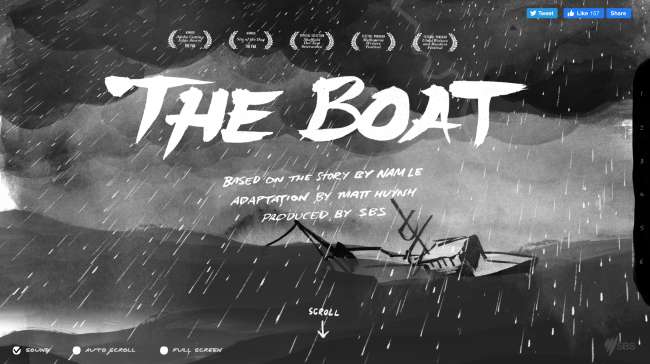 To say that SBS did a great job on their first graphic novel would be an understatement and they have the awards that prove that.
The website features immersive storytelling that is both emotional and intriguing. The use of sketches, animations, voice-overs and sound effects makes this novel a page-turner, although this comes in a deep scroll format.
The design concept and execution are works of art. It shows that websites can be more than just static or templated pages.
Featured in DesignRush Best Designs
Woven Magazine is an artist's lair. It's where art takes refuge in minimalist pages.
Stunning photographs and clean typography makes reading a calming experience.
This website lets the photos and stories speak for themselves. If you're looking for creative inspiration, this magazine can give you that.
And if you prefer to support the magazine by owning a piece of the material on paper, the website's online store gives the visitors an option to check out prints for delivery.
Featured in DesignRush Best Designs
Designed by Faculty
Cereal is also a thing of minimalist beauty. But what sets this website apart from the previous examples is its custom grid layout, modern city guides, and other unique content.
The website also explores color and monochromatic palettes for contrast and appeal.
Similarly, visitors can check out copies of the magazine and city guides using their simple online store.

The Best Event Web Designs
Featured in DesignRush Best Designs
Designed by Keplar Agency
Alda Events is a Dutch company that is all about music and their website reflects that to a T.
The website exudes a lot of energy despite having a simple layout. Thanks to the concert videos and character gifs that play on loop to keep the visitors engaged.
They also listed the events so that the calendar is simple and not overwhelming to view.
The website's vibrant energy, the intuitive scrolling navigation and its use of negative space make the user experience one-of-a-kind.
And if you happen to be a fan, the site also features an online shop where you can access their exclusive merchandise.
Featured in DesignRush Best Designs
Safe Events puts risk management at its core. The company is known for organizing large gatherings from planning to execution.
The website uses teal as its primary color, which gives it a friendly and bright atmosphere. It reflects the kind of service that Safe Events provides.
What makes their page even more interesting is the use of geometrical shapes and percentages that coincide with the scrolling mechanism as the visitor goes through the website.
These simple elements when added to the familiar user navigation can work best to differentiate a brand. This is what makes custom web designs stand out from the sea of templates online.
Featured in DesignRush Best Designs
NFFTY is a festival for young filmmakers who wish to share their work with fellow creatives and movie buffs.
The homepage features snippets from various films showcasing the group's immense production talent.
The website uses a modern-retro color palette with matching playful typography to set the mood and give the visitors an idea of the whole festival experience.
NFFTY puts the work front and center and gives the spotlight to creators through its fun and engaging website content.
Featured in DesignRush Best Designs
Stockholm Jazz Festival may be in Sweden, but its website can entice jazz aficionados from across the globe.
The website design is quirky and unpredictable, which is part of its charm. The photos are static, but they are vibrant and full of energy.
Navigation is a breeze, too. Everything the visitors need is on the left-side menu.
As for the most important page, the calendar features photo thumbnails and artist profiles to make it easier to choose and book your schedules. How cool is that?
Featured in DesignRush Best Designs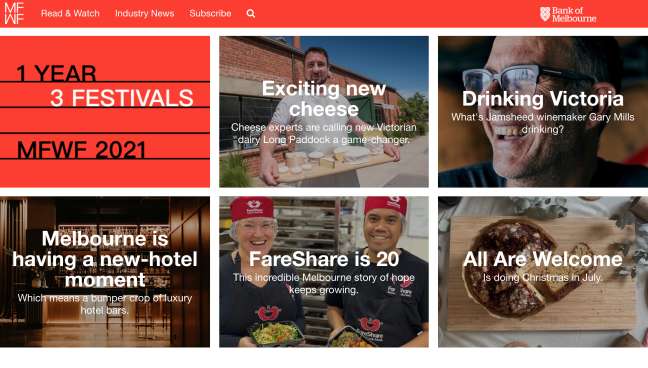 Melbourne Food and Wine Festival is not your typical year-round event. Its three-part celebration is one of the city's highlights and one that's not to be missed.
Its website is just as eventful, with lots of comprehensive content and engaging visuals to keep the visitors entertained.
The use of a consistent color scheme and clean typography make for a pleasant viewing experience.
One can easily find something of interest simply by navigating their website, much like attending this festival.
The Best Non-Profit Web Designs
Featured in DesignRush Best Designs
Designed by Viget
Non-profits rely on the website to attract donors, and so their pages must be well-designed to achieve this goal.
Hence, 96 Elephants focused on getting the visitor's attention using a bold color palette, varying typography and serious messaging to create a sense of urgency.
The website focuses on the animals it seeks to help and makes it easy for people to donate and join the cause.
Featured in DesignRush Best Designs
HeForShe is a political movement that has taken the world by storm. Thanks to the celebrities who lent their voices to this cause.
The UN knows that it will take global commitment to push the message forward. Hence, their website features an interactive world map where visitors can see their country's involvement and how they can further help this cause.
The website also features a lot of social proof to entice more people to join the movement and create the change that the UN is aiming for.
Featured in DesignRush Best Designs
IDE is a global organization that helps create income and livelihood opportunities for poor households across various industry sectors.
Their website's homepage uses bold typography and large images to get its brand message across clearly and legibly.
Plenty of negative space and elements in vivid colors facilitate the user's focus, while navigation via the main menu is straightforward.
The sticky "Donate" call-to-action button helps IDE fulfill its humanitarian and noble purpose and provides a quick route to the conversion point.
Featured in DesignRush Best Designs
Council Foreign Relations (CFR) is an organization that helps interested parties "better understand the world and the foreign policy choices facing the United States and other countries."
Their Amazon deforestation minisite uses a single-page layout with storytelling that unfolds as the user scrolls. The entirety of the screen is devoted to the concise, short messaging in front of full-background videos of the rainforest.
On the left-hand side, a sliding timeline-style navigation helps the users locate specific points of interest on a page, informing them of the deforestation process.
High-quality imagery, large maps, contrasting serif fonts and plenty of multimedia make this website a standout in both its mission and design.
Featured in DesignRush Best Designs
FEED is a lifestyle brand whose products provide "a meaningful way for consumers to make a difference." Specifically, the sale of their products helps combat the famine in poor regions of the world.
Their website is a mixture of an online shop and poignant messaging and imagery explaining how the brand fulfills its mission and also helps reduce waste.
A simple, sticky main menu navigation contrasts against the colorful images and effective messaging, which are easy to follow.
The creative use of "Shop Now/Give Meals" in their CTAs is something of note because it lends a sense of urgency and compels prospects to make a purchase.
Custom web designs are unique design solutions that fully integrate your brand's identity and personality into the website.
Custom web designers build a page from the ground up without using any templates or ready-made graphics. They develop each section of your website, particularly for your business needs and goals.
Customization requires a dedicated team that focuses on fully understanding your business and your brand to formulate a design strategy that will provide a unique digital experience.
This means all elements of your website are exclusively crafted, including:
Layout
Color palette
Content flow
Typography
Graphics
Images
Navigation
And more
A custom web design enables you to control every feature of the design process and refine the customer journey to deliver a unique user experience.
Due to its confined set of functions, off-the-shelf templated designs can't be fully customized to meet specific requirements.
Custom web designs, on the other hand, are specifically developed with the features and functionality you need to create a well-built conversion funnel that will generate leads and sales.
Who Are Custom Web Designs For?
Custom web designs are a suitable option for those who want to build a strong brand identity and truly make a statement with their online presence.
Templated websites can also be effective and beautiful, but it's hard to set your brand apart when you share a theme with so many websites.
The only way to stand out in the fierce competition is to have a unique-looking website that captivates attention and provides a great user experience.
Any business in any industry can benefit from a custom web design.
The only downside of custom web designs is the cost. It will take more money to bring your creative vision to life than to install a WordPress theme.
Nonetheless, a well-executed custom website will attract visitors, communicate with consumers and has the potential to create better conversions.
Experienced web designers know how to strike the perfect balance between business and creativity, SEO and other technicalities that contribute to the overall user experience.
Here are a few signs that will help you determine whether a custom design is the right option for you:
You want to be miles away from the competition
To significantly move the needle for your business and be one step ahead of your competitors, a custom web design is your safest bet.
A custom-made website will always be one of a kind while other businesses that use already-seen templates may fall into oblivion.
Your current website design is outdated
An out-of-style web design makes for a stale user experience that won't entice visitors.
Moreover, an outdated website could harm your SEO and make it challenging for users to discover it.
A custom design makeover will not only give your website a fresher look but will also improve your SEO so you can attract and convert more visitors.
You are underperforming in terms of conversions, sales and revenue
A custom web design will surely give you that boost to hit your goals and expected results.
That's because it involves a well-optimized conversion funnel specifically designed for your target audience and goals that will turn your leads into prospects.
What Steps Should You Take If You Want A Custom Web Design?
A well-crafted custom web design can only be executed by a professional web design company. They have the expertise, tools and resources to build a website perfectly tailored to represent your business.
Luckily, you can find an extensive ranking of custom web design companies in our DesignRush directory.
Our team of industry experts carefully selected the top-performing custom website design agencies to help you easily find the right team for your digital marketing needs.
But before you start searching for the most suitable candidate, consider these several factors:
Budget: See how much you can allocate for a professional web design, then search for a custom web design agency that can operate within the said budget and generate ROI.
Goals: Ask yourself why you want to invest in custom website design services. Once you have clear objectives, it will be easier to search for a company that can meet your expectations.
Requirements: Think about your needs and the type of website you would like to have. This can make your search easier since you already know exactly what you're looking for.
Then, once you are ready to research the best custom web design companies on our list, you can start to contact each of them or let us suggest the best agencies for your business through the DesignRush Marketplace.
When evaluating each custom web design agency:
Read their reviews: See what previous clients say about the potential agencies to get an insight into their reliability, management skills and corporate culture.
Go through their work: Head over to their portfolios to see what projects they have worked on, the clients they have managed and their technical expertise.
Review their industry experience: Ask every custom website design company whether it has worked with clients in your niche.
Though not obligatory, it is advantageous if you select an agency that knows your target market and the environment you operate in. This can help accelerate project delivery and results.
How Much Do Custom Web Designs Cost?
Compared to a templated web design, a custom website will cost more to develop as it takes more time and resources to build it.
Be that as it may, a well-made platform will deliver better results and will work best in the long term.
The total cost of a custom web design comes down to a few variables, including:
Functionalities
Integrations
Specific design features
The number of web pages
Personalized messaging and web copy
Depending on your website type and size, the cost may vary considerably. Here are some of the most common pricing structures made available by web design companies based in the U.S.:
Small businesses: Their websites typically require a few pages and simpler design elements, therefore ranging between $25,000 and $30,000.
Medium-scale businesses: A more complex website involving over 50 web pages, custom layout, special functionalities and a content management system (CMS) could cost anywhere between $50,000 to $60,000+.
Enterprises: For larger websites with hundreds of web pages, unique design elements, CMS and numerous distinctive functionalities, the cost for a custom web design could begin at $100,000 and go up to hundreds of thousands.
Whether you opt for a custom or templated web design, there's no doubt that user experience is key to customer engagement, conversion and retention.
Consider your business needs, check industry trends and browse design inspirations to help you assess your website and set your goals.
Whichever way you decide to go, DesignRush is here to help you keep up with these trends and connect you with different agencies should you need to.
Get connected with the right web design agency for your project.
GET STARTED
Subscribe to Spotlight Newsletter
Subscribe to our newsletter to get the latest industry news