Best App Designs
Search Top App Designs by Industries, Styles, Modules & Colors
Ooops!
Seems like we don't have results for that filtered search criteria.
Top 5 App Designs to Help You Stay Active
The 5 Best App Design Features That Wow Your Audience
When it comes to creating an efficient and effective mobile app, there's a lot at stake. You have to create content that engages the user and keeps them invested, while also wowing them with intricate and exciting mobile features.
And we're a tough crowd to please.
You have to have the newest and most advanced technology. You have to have an interactive and user-friendly UX design. You have to be able to engage with audiences of all ages that are using your app on different mediums.
Are you a web-based brand using apps to grow your business? Are you an app-only brand that thrives on a mobile following?
Depending on your niche, your needs for a mobile app design may be different. But that doesn't mean it can lack power, depth and excitement. If you want your app to thrive, it needs to include features that users are asking for — no, demanding.
And these five features are sure to wow any audience.
The Captivating App Design: Trips by Lonely Planet
Content is key. We can't stress that enough — and we will certainly take every opportunity to do so.
A mobile app's content has the power to make or break the entire app experience. Imagine the user comes to a travel app in search of hotel recommendations, but on arriving there discovers that there are only a handful of hotel listings in the city they want to visit. Or maybe there are a host of travel guides, all with generic information that is utterly useless to the avid traveler. A lack of appropriate content kills the user experience of the app, rendering it effectively useless. Content is more than "king", it is the backbone of the app experience.
The best app designs account for the creation and inclusion of content users will be excited to engage with. They give users exactly what they're looking for and a little bit more.
Content is more than just a paragraph of information here or there on the app. Content is everything, from the wording of the app's calls-to-action to the labeling of menu items and even the manner in which the app addresses the user when they sign back on. It's the headlines that stand out against a bright and cheerful background. It's the notifications a user gets throughout the app experience. It's the visuals and the message the app is trying to convey.
That brings me to our next point — content isn't just text. Making mobile app content engaging means incorporating video, illustration, photography and even motion and animation where appropriate. It's the cute jumping figures at the top of the screen. It's the way the app takes you on a journey. The stunning photos and the navigation menu all play into this journey and are vital to making content the main focus.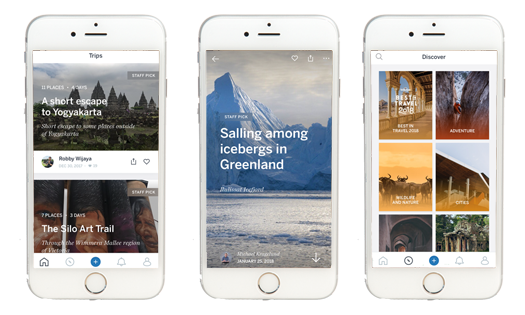 An app that is doing wonders in terms of mobile content is Trips by Lonely Planet. This app offers travel guides to its users, providing a stunning mix of engaging content, exceptional photography and vital insights into destinations across the globe. The content on this app gives users everything they'd want to know about a given destination and helps make the planning process a breeze. And it even allows users to create guides and journeys all their own.
The Beautiful App Design: Boox
Let's be honest — we all judge a book by its cover. It's the same with app designs. If it's not aesthetically pleasing, we're deleting that app ASAP.
Even though app designers and developers know that a mobile app is the sum of its parts, it's the visual design of the app that usually gets noticed and remembered most often. From a user's perspective, the visual design is what defines the experience of the app. That's why the creative design of the app must be captivating. It has to pop. Even if an app is designed with powerful technology, impeccable usability, and compelling content, it can't succeed without exceptional aesthetics.
The app's visual design is a huge part of what lends the app character and gives the user a deeper connection and more powerful experience. The visual design of a great mobile app should align seamlessly with the goals and purpose of the app itself. It should be created to appeal directly to the app's target audience.
But designers shouldn't be afraid to have some fun with their designs! That's what users really want to see.
They want to be mesmerized by the design. They want to be delighted and excited by the colors, layout and seamless integration of all visual features. You can have great content and impeccable images but if they're all thrown about in disarray, chaos, and abrasive style, the app will never succeed.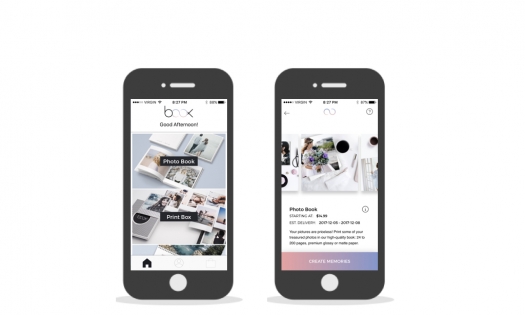 An app with beautiful aesthetics is Boox. An app created for the purpose of bringing your mobile phone photos to life, this minimalistic, clean and simple app design makes the process of creating your own visual works of art easier than ever before. It's stunning simplicity and smooth transitions are an aesthetically pleasing dream.
The Best User Experience-Oriented App Design: Cash App
Few things can tank an otherwise promising app faster than poor user experience. Seriously, brands can come back from scandals that make you cringe easier than an app with a UX design that creates anxiety and chaos for its users.
App users can't be expected to know exactly how the app wants them to interact with it — it's the job of the UX designers to devise ways to guide users seamlessly through the app's journey so that it feels nothing short of intuitive.
Users don't want to do more work than they need to. They're lazy, after all. Admit it — I'm lazy, you're lazy, we're all lazy. The sooner we accept it, the sooner we can move forward and start creating designs that actually give us what we want.
Which is, essentially, everything laid out simply and easily on a silver platter.
Just like any website design, an app must have a clear navigation that helps the user browse and explore the platform. Even more importantly, an app's navigation must help the user find the information they're looking for quickly.
Patience on the web is very low, but patience on mobile is virtually non-existent. We're lazy, remember?
Having a strong user experience also means creating a structure for the app that allows content to be presented exactly where and exactly how users need it. The app should delight the user by delivering a user experience that feels flawless, organic and unashamedly one step ahead of the person using it.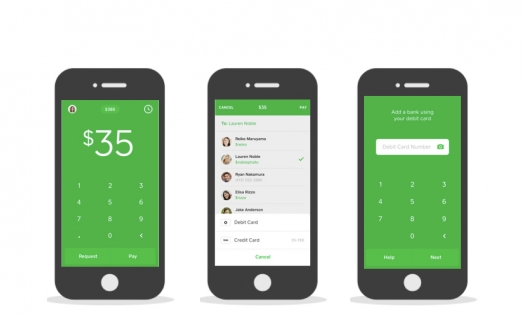 An app with a user experience that excels is Cash App. This peer-to-peer mobile payment app is giving Venmo a run for its money with its user-friendly interface and innovative UX design. Everything a user needs from the app is laid out seamlessly throughout the app, making the experience a satisfying one.
Top Technology App Design: Trigraphy
Without innovative and power technology, an app is just a bunch of letters and pictures.
Apps are powered by the technology that forms the foundation of the experience. A great idea is only successful if it's supported by great tech. The tech makes the idea possible and brings the experience to life, even if the user will never have an inkling of how the tech works.
A user will never know what goes into powering the app that is consuming their lunch breaks — and that's the point. It's the silent savior. It's the guardian angel. It's what makes the app everything that the app itself is.
The best apps must be built using cutting-edge technology that evolves to incorporate modern advancements. The world of tech is always changing. It's not just design trends that are evolving, but the technology itself. Artificial intelligence. Virtual reality. Haptic feedback. In an ever-evolving world, mobile app technology must be capable of delivering personalized experiences that are more relevant to the individual user.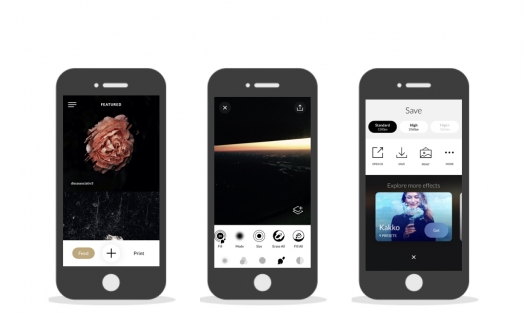 An app powered by evolving and intricate technology is the Trigraphy app. An app that gives users an advanced and intuitive photo-editing experience, the Trigraphy app lets users flex their creative muscles. The app offers a number of different and exciting features powered by strong technology. And in the world of photo editing, technology always needs to evolve. This app will be ready for it when that happens.
The Most Useful App Design: Drops
More often than not, a mobile app acts as an auxiliary feature of a desktop or mobile site experience. It's not necessarily the only point of contact a user has with a brand or company. In these cases, full platform functionality is available on a desktop or mobile device, and the mobile app exists in addition to those things.
This of the desktop or mobile platform like a superhero — the app is the superhero's sidekick.
But funnily enough, we've begun seeing mobile app experiences that only exist functionally via a mobile device.
Think ride-sharing apps like Uber and Lyft, dating apps like Bumble and Tinder, and gaming apps like Pokemon Go.The utility of these apps is obvious because without the app the experience itself wouldn't exist.
These apps have a very specific purpose. A goal. They have a useful intention that users want — that many users would even say that they couldn't live without. This is what makes the apps so vital — they offer a purpose and utility that users are looking for.
That's why apps complementary to existing desktop or mobile web experiences have a harder job in the utility department. They have to work even harder to define a clear reason for being. Not every company needs a mobile app, and they often get themselves into trouble by simply replicating their desktop experience in app form.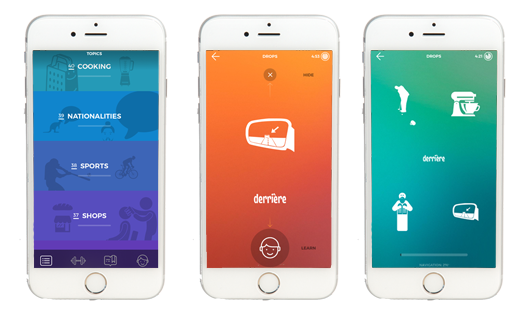 The brands that build the best mobile apps know what the function or their app will be. They create the app with the knowledge that the app will have a very specific utility and functionality, how that utility is distinctly relevant to mobile, and what benefit it will bring to users.
An app that's killing the utility game is Drops. A visual language learning app, this app lives exclusively on mobile. It's a quick, exciting and eye-catching app that helps the user learn new languages at the tap of a mobile screen. The design is bright and bold, and the purpose and utility of the app are made very clear from conception.
Conclusion
Engaging with your audience isn't always easy, and if you're new to the mobile game, the task can seem that much more difficult. But app designs can help to skyrocket your business and brand — you just have to know what goes into an app that makes a lasting impact.
If you want your app to wow audiences and convert to sales and a strong following, it needs to include advanced features that propel your app past the 21st century. The best mobile app design features include:
1. Powerful and compelling content
2. A visual design that keeps users engaged
3. An intuitive and user-friendly UX
4. A strong technological background
5. A useful purpose
If your next app design includes all of these features, you'll be sure to have all your target users glued to their devices in no time.